Film Tari; Sebuah Hibridasi Seni Tari, Teknologi Sinema, dan Media Baru
Deny Tri Ardianto

Desain Komunikasi Visual, Universitas Sebelas Maret, Surakarta, Indonesia

Bedjo Riyanto

Desain Komunikasi Visual, Universitas Sebelas Maret, Surakarta, Indonesia
Abstract
Film tari telah memiliki sejarah panjang seiring kelahiran film di dunia. Namun demikian kehadirannya tidak serta merta disadari oleh masyarakat dunia. Film tari berkembang dalam sepi di tengah riuhnya film-film popular yang merajai bioskop-bioskop komersial. Kini film tari seakan ingin menampilkan eksistensinya melalui pemutaran dan diskusi di beberapa event festival film tari, pemutaran di kampus-kampus, serta komunitas kesenian. Semakin banyak ruang-ruang pemutaran turut menggiatkan para pembuat film dan koreografer untuk semakin produktif memproduksi film tari. Ditunjang perkembangan teknologi sinema yang secara nominal semakin terjangkau masyarakat, produksi dan distribusi film tari semakin meningkat. Hal tersebut yang menjadi salah satu penanda bangkitnya film tari di dunia. Namun bagaimanakah perkembangan film tari di Indonesia? Potensi film tari berkembang di Indonesia sangat terbuka lebar, karena Indonesia kaya akan tari tradisional yang siap untuk dieksplorasi berhibridasi dengan film/video. Menggunakan pendekatan kualitatif deskriptif, kajian dari tulisan ini diharapkan bisa memberikan wawasan bagaimana perkembangan seni tari dan seni film berkolaborasi dengan beragam dukungan teknologi sinema dan media baru berkembang di Indonesia.
References
Ardianto, Deny Tri, 2014. Risang Tetuka; Adaptasi Lakon Gathutkaca Lahir ke Dalam Film Tari. Disertasi Program Doktoral Pengkajian dan Penciptaan Seni, PPs ISI Yogyakarta
Brannigan, Erin. 2006. Yvonne Rainer's memoir "Feelings Are Facts: A Life". MIT Press published.
Croteau and Hoynes (2003) Media Society: Industries, Images and Audiences (third edition) Pine Forge Press: Thousand Oakes.
Indriasari, Lusiana, 2012. Diakses pada 10 Oktober 2017 pukul 22.00 WIB, pada laman:http://entertainment.kompas.com/read/2012/06/05/21363642/idf.perkenalkan.konsep.film.tari
Mitoma, Judy. 2002. Envisioning Dance on Film and Video, Great Britain: Routledge.
Moleong, Lexy J. 2005. Metodologi Penelitian Kualitatif, Bandung: Remaja Rosdakarya.
Rosenberg, Douglas. 2001. Essay on Screen Dance. Dipresentasikan dalam seminar/simposium Dance for The Camera di Madison, Wiscosin, USA.
Rousseve, David. 2012. "Dance Film and Dance for the Camera." E-mail untuk Deny Tri Ardianto. 12 Februari 2012.
Sukmadinata, Nana Syaodih. 2010. Metode Penelitian Pendidikan. Bandung: PT Remaja Rosdakarya.
Venza, Jac. 2002. Dance as Television: A Continuing Challege. Editor. Judy Mitoma. Envisioning Dance on Film and Video, Great Britain: Routledge.
Wolff, Jessica. 2005. Yvonne Rainer – Director. Diakses pada 11 Januari 2014 pukul 21.00WIB, pada laman: http://www.filmreference.com/Directors-Pe-Ri/Rainer-Yvonne.html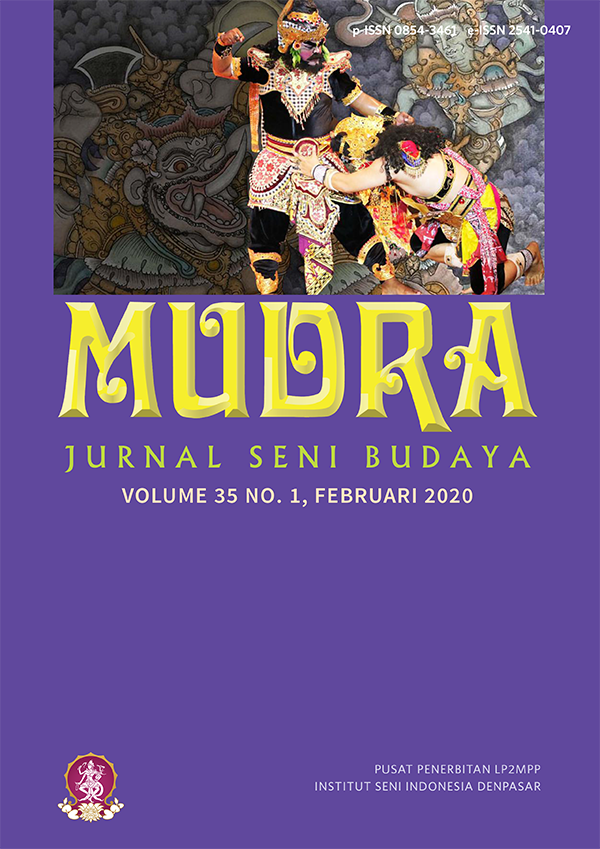 How to Cite
Ardianto, D., & Riyanto, B. (2020). Film Tari; Sebuah Hibridasi Seni Tari, Teknologi Sinema, dan Media Baru. Mudra Jurnal Seni Budaya, 35(1), 112-116. https://doi.org/10.31091/mudra.v35i1.856
Copyright (c) 2020 Deny Tri Ardianto, Bedjo Riyanto
This work is licensed under a Creative Commons Attribution-NonCommercial 4.0 International License.
Copyright on any open access article in a journal published by Mudra Jurnal Seni Budaya is retained by the author(s).

The Creative Commons Attribution License 4.0 formalizes these and other terms and conditions of publishing articles.