Handmade Eco Print as a Strategy to Preserve the Originality of Ria Miranda's Designs in the Digital Age
Keywords:
handmade, eco-print, fashion, digital era
Abstract
Abstract Digital technology eases many aspects in human life and leads to the phenomenon of working without human touch. Although human skills are still required to operate the system, 90% of final products are produced by software called the digital applications. Moreover, the applications work automatically after the 'save' and 'create' buttons were clicked. Product characters that have been resulted by digital applications tend to be consistent in terms of visual and efficiency, production time, as well as quantity. This is one of the problems for fashion designers that have personal touch on their limited, private, and exclusive product designs. Regardless of the trend and market demand influence, a strategy for maintaining originality concept is absolutely necessary. The majority of consumers today have been adept at distinguishing between the works that are produced by mature concept or works that are only good in physical appearance. This paper describes the reasons behind Ria Miranda's strategy in making moslem woman fashion designs with handmade eco print in terms of concrete form, originality criteria, and the impact of the strategy implementation to her product image and other supporting aspects. The interesting finding about Ria Miranda's designs using handmade eco print is that it can eliminate the impression of mass produced products and bring a new image for her design branding as eco fashion designer. Furthermore, her works with handmade eco prints result in an exclusive form, because it has advantage point of not being able to be reproduced with the same form repeatedly. This strategy is called One Process One Product (OPOP). This technique makes it difficult for plagiarists to make similar works in mass quantity.
Teknologi digital memudahkan kehidupan manusia di berbagai lini kehidupan manusia. Hal ini terlihat khususnya pada bidang desain fesyen, aplikasi digital telah memudahkan desainer dalam menuangkan ide kreatifnya, hingga dapat diaplikasikan sebagai digital print pada produk kreatifnya. Karakter karya yang dihasilkannya pun cenderung konsisten secara visual, efisien waktu produksinya, dan berpengaruh dalam hal jumlah. Hal ini menjadi permasalahan untuk rancangan fesyen yang mengutamakan sifat personal, terbatas, intim, dan eksklusif. Terlepas dari pengaruh tren dan pasar, strategi untuk mempertahankan orisinalitas mutlak dilakukan. Uraian alasan tersebut menjadi pokok bahasan yakni strategi di balik rancangan Ria Miranda, yang pada awalnya dikenal sebagai desainer fesyen muslimah dengan teknik digital print, beralih menggunakan teknik eco print untuk mempertahankan orisinalitas karyanya. Temuan yang menarik tentang rancangan Ria Miranda dengan eco print, yakni mampu menghilangkan kesan mass product dan memunculkan image baru terhadap rancangannya sekaligus branding sebagai desainer fesyen muslimah ramah lingkungan. 
Downloads
Download data is not yet available.
References
Andriana, Yunita F. (2017), Digital Printing Motif on Muslim Fashion Trend in Indonesia, Proceeding of IMHALAL Conference 2017, Kuala Lumpur, Malaysia.
Barendregt, Bart & Rivke Jaffe. (2014), The Global Rice of Eco-Chic: Green Consumption, Bloomsbury Publishing Plc, London, United Kingdom.
Choi, Tsan-Ming. (2014), Fast Fashion Systems: Theories and Applications, Taylor & Francis Group, London, United Kingdom.
Fabric, Aesthetic. (16 April 2017), Ecoprint Technique, https://www.instagram.com/p/BhnkSfDBb4t/?hl=
en&taken-by=aest.fabric.
Flint, India. (2008), Botanical Dyes for Beatiful Textiles, Interweave Press, United States of America.
Fletcher, Kate. (2014), Sustainable Fashion and Textiles: Design Journeys, 2nd Edition, Earthscan, New York, United States of America.
Gani, Sadikin. (26 Mei 2016), Fashion di Era Digital, http://satusatu.id/fashion-di-era-digital/.
Indriyani, Astuti. (02 Desember 2017), Ria Miranda Terapkan Eco Fashion yang Ramah Lingkungan, http://mediaindonesia.com/read/detail/134761-ria-miranda-terapkan-eco-fashion-yang-ramah-lingkungan.
Minney, Safia. (2016), Slow Fashion: Aesthetics Meets Ethics, New Internasionalist Limited, London, United Kingdom.
___________. (2017), Slave to Fashion, New Internasionalist Limited, London, United Kingdom.
Novianty, Dythia & Firsta Nodia. (30 November 2017), Ria Miranda Daur Ulang Cangkang Alpukat dalam Koleksi Eucaflora, https://www.suara.com/lifestyle/2017/11/30/170055/ria-miranda-daur-ulang-cangkang-alpukat-dalam-koleksi-eucaflora.
Raco, J.R. (2010), Metode Penelitian Kualitatif: Metode, Karakter, dan Keunggulannya, PT Gramedia Widiasarana Indonesia (GRASINDO), Jakarta.
Wardah, Tim Kreatif Fashion Award. (2 Desember 2017), Euca Flora, riamiranda-eucaflora.mp4.
Wulandari, Fitri. (30 November 2017), 'Eucaflora' Koleksi Eco Fashion dari Ria Miranda Akan Tampil dalam Dubai Modest fashion Week 2017, http://www.tribunnews.com/lifestyle/2017/11/30/eucaflora-koleksi-eco-fashion-dari-ria-miranda-akan-tampil-di-dubai-modest-fashion-week-2017.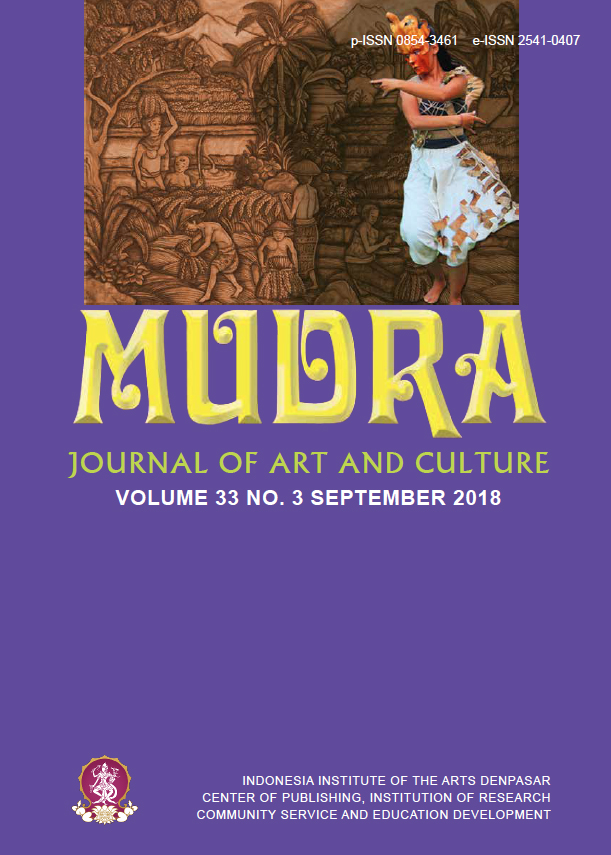 Downloads
How to Cite
Nurcahyanti, D., & Septiana, U. (2018). Handmade Eco Print as a Strategy to Preserve the Originality of Ria Miranda's Designs in the Digital Age. Mudra Jurnal Seni Budaya, 33(3), 395–400. https://doi.org/10.31091/mudra.v33i3.543
License
Copyright on any open access article in a journal published by Mudra Jurnal Seni Budaya is retained by the author(s).

The Creative Commons Attribution License 4.0 formalizes these and other terms and conditions of publishing articles.