Forms And Functions Of Sandstone Handicrafts In Singapadu Kaler Village In The Global Era
Keywords:
sandstone handicrafts, globalization
Abstract
In this era, the forms and functions of sandstone handicrafts in Singapadu Kaler Village have undergone very rapid development and change. This is marked by the emergence of various types of sandstone handicrafts, which enrich the arts and culture of Bali in particular and Indonesia in general. Several forms of sandstone handicrafts produced by craftspeople in Singapadu Kaler Village are very popular and much in demand by consumers. Among these are garden lampshades, wall lights, ventilation decor, flower pots, fauna and flora bas-relief, statues of the Buddha, and other sculpture motifs. These forms have a different function, style and aesthetic impression than traditional sandstone handicrafts in other regions. Overall, the products were created as a result of the influence of globalization, which gave birth to a wide variety of forms and innovations. Hence, it is important to write about so that the forms and functions as well as the messages contained within them can be clearly revealed. A qualitative interpretive method was used to analyze this phenomenon with a cultural studies approach utilizing deconstructivist theory and postmodern aesthetic theory. This lead the authors to the general conclusion that these new forms and functions of sandstone handicrafts have given rise to positive and negative impacts, which have not only been accepted by the craftspeople, but also the broader community of Singapadu Village and consumer society. In addition, these handicrafts also contain important creative, economic, aesthetic, and cultural change functions. This brief article hopes to be useful as a medium for study by secondary and higher education institutions of art or the general public about the field of sandstone handicrafts growing in Singapadu Kaler Village. It also hopes to be a useful reference for writers and researchers in other regions, so that the repertoire of scientific knowledge on sandstone handicrafts in Indonesia can become more widely known.
Dewasa ini bentuk dan fungsi kerajinan batu padas di Desa Singapadu Kaler mengalami perkembangan dan perubahan sangat pesat. Hal ini ditandai munculnya berbagai jenis kerajinan batu padas dengan fungsi yang berbeda sehingga memperkaya khasanah seni budaya Bali khususnya dan di Indonesia pada umumnya. Ada beberapa bentuk dan fungsi kerajinan batu padas yang sangat populer dan diminati para konsumen merupakan produksi perajin-perajin dari Desa Singapadu Kaler Gianyar. Bentuk kerajian batu padas tersebut memiliki fungsi, gaya dan kesan estetis yang berbeda dengan bentuk kerajinan batu padas tradisional didaerah lain. Secara keseluruhan kerajinan yang diciptakan tersebut pada dasarnya akibat dari pengaruh globalisasi, sehingga melahirkan bentuk dan fungsi kerajinan batu padas yang sangat variatif dan inovatif. Hal tersebut berdampak positif dan negatif tidak saja diterima oleh para pengrajin, namun lebih luas, pada masyarakat desa dan masyarakat konsumen. Selain itu, bentuk dan fungsi kerajinan batu padas di Desa Singapadu Kaler secara umum mengandung fungsi yang bereka macam dan sangat penting, antara lain: fungsi kreatipvitas, ekonomi, estetis, dan fungsi perubahan budaya. Metode yang dipakai untuk menganalisis permasalahan adalah kualitatif dengan pendekatan kajian budaya, memanfaatkan, teori dekonstruksi, dan teori estetika postmodern. Tulisan ini diharapkan dapat dipakai sebagai media pembelajaran baik oleh lembaga pendidikan seni tingkat menengah dan perguruan tinggi atau masyarakat umum, khususnya dalam bidang kerajinan batu padas yang berkembang di Desa Singapadu Kaler Gianyar. Di samping itu tulisan ini juga dapat dijadikan acuan oleh para penulis dan peneliti dalam melakukan penelitian ilmiah yang lain, agar khasanah ilmu pengetahuan seni kerajinan batu padas di Indonesia semakin diketahui dan berkembang dengan pesat. 
Downloads
Download data is not yet available.
References
Ardhana, I Ketut. 1994. "Bali dalam Kilasan Sejarah†dalam I Gde Pitana (ed), Dinamika Masyarakat dan Kebudayaan Bali. Denpasar: BP.
Ardika, I Wayan. 2005. "Strategi Bali Mempertahankan Kearifan Lokal di Era Globalâ€, dalam Kompetensi Budaya Bali dalam Globalisasi. Denpasar: Fakultas Sastra Unud dan Pustaka Laras.
Covarrubias, M, 1957. Island of Bali. New York: Harry N. Abrams, Inc.
Djelantik, A.A. M. 1990. Balinese Paintings. Singapore: Oxford University Press.
Gelebet, I Nyoman dkk. 1992. Arsitektur Tradisional Daerah Bali. Departemen Pendidikan dan Kebudayaan Proyek Inventarisasi dan Dokumentasi Kebudayaan Daerah.
Gustami, S.P. 1991. "Dampak Modernisasi terhadap Seni Kriya di Indonesiaâ€dalam Soedarso, S.P. Editor Beberapa Catatan tentang Perkembangan Kesenian Kita. Yogyakarta: BP ISI Yogyakarta.
Kempers, A.J Bernet. 1977. Monumental Bali. Introduction to Balinece Archeology Guide to the Monuments. Van Goor Zonen Den Haag.
Koentjaraningrat.1997. Manusia dan Kebudayaan Indonesia. Jakarta: Djambatan.
Picard, Michel. 1992, Tourisme Cultural et Culture Touristique Diterjemahkan oleh Jean Couteau & Pristie Wahyo (2006).
Pariwisata Budaya dan Budaya Pariwisata. Jakarta: Gramedia.
Piliang, Yasraf Amir. 2006. "Antara Hemogenitas dan Heterogenitas: Estetika dalam Cultural Studies†Makalah Kajian Budaya.Udayana.
Soedarsono, R.M. 2000. Melacak Jejak Perkembangan Seni di Indonesia. Sebuah Terjemahan Buku Claire Holt (Art In Indonesia Continuities and Change).Bandung: MPSI (Masyarakat Seni Pertunjukan Indonesia).
Yudabakti , I Made. 2013. "Marginalisasi Wayang Kulit Parwa di Kabupaten Gianyar pada Era Globalisasiâ€. Disertasi Program Doktor, Program Studi Kajian Budaya, Program Pascasarjana Universitas Udayana.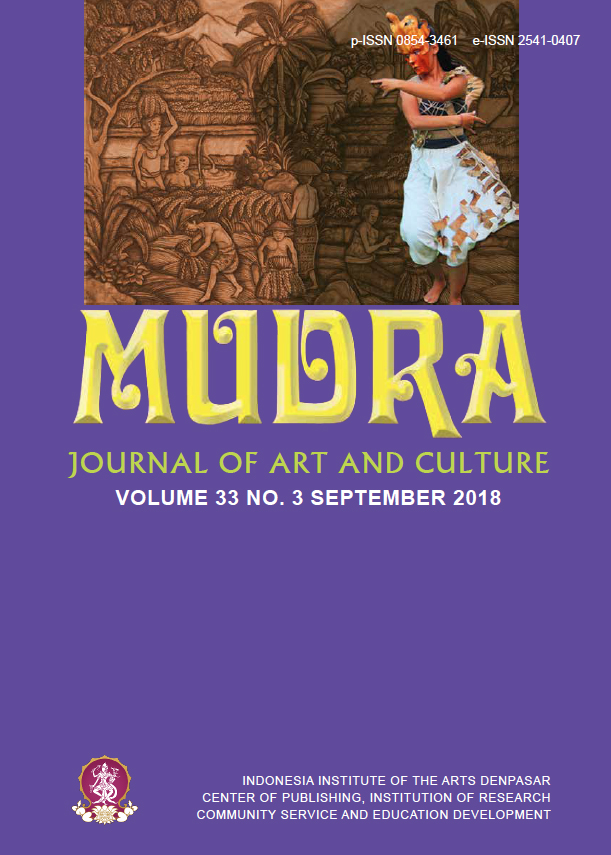 Downloads
How to Cite
Muka, I. K., & Rai Sunarini, N. M. (2018). Forms And Functions Of Sandstone Handicrafts In Singapadu Kaler Village In The Global Era. Mudra Jurnal Seni Budaya, 33(3), 360–366. https://doi.org/10.31091/mudra.v33i3.500
License
Copyright on any open access article in a journal published by Mudra Jurnal Seni Budaya is retained by the author(s).

The Creative Commons Attribution License 4.0 formalizes these and other terms and conditions of publishing articles.