The Visual Elements Strength in Visual Novel Game Development as the Main Appeal
Keywords:
Visual elements strength, visual novel, game, main appeal
Abstract
Currently, visual novel games can be downloaded easily via android-based smartphones or played on the computer. The ease of access is certainly needed to be supported by visual appeal, so that users are interested to play it continuously. In visual novel games, the visual elements that build the game consist of visual characters, visual narration, and visual styles. This study analyzes these three visual elements to know which elements have dominant visual strength and become the main appeal. The discussion of this study using mix method, that is qualitative and quantitative with visual perception and semiotic approach. Qualitatively, the analysis of the three elements of the game's appeal shows the existence of visual signs that can build perception such as visual character, visual narration, and visual style. While quantitatively, the analysis shows that visual styles and visual characters have a more dominant visual strength as the main appeal. The results of this study are expected to be a reference for local game developers. The three visual elements that appeal to the visual novel games must match the needs of the market. Visual novel games that can attract attention and meet the needs of its users potentially become more competitive in the global market.
Saat ini, permainan visual novel dapat diunduh dengan mudah melalui telepon pintar berbasis android atau dimainkan lewat komputer. Kemudahan akses tersebut tentunya perlu didukung oleh daya tarik visual, agar para pengguna tertarik untuk memainkannya secara terus-menerus. Dalam game visual novel, unsur-unsur visual yang membangun permainan di dalamnya terdiri dari karakter visual, narasi visual, dan gaya visual. Studi ini menganalisis ketiga unsur visual tersebut untuk mengetahui unsur-unsur yang memiliki kekuatan visual dominan dan menjadi daya tarik utama. Pembahasan studi ini menggunakan metode kombinasi, yaitu kualitatif dan kuantitatif dengan pendekatan persepsi visual dan semiotika. Secara kualitatif, analisis terhadap ketiga unsur daya tarik game tersebut menunjukkan adanya tanda-tanda visual yang dapat membangun persepsi, seperti karakter visual, narasi visual, dan gaya visual. Sedangkan secara kuantitatif, analisis menunjukkan bahwa gaya visual dan karakter visual memiliki kekuatan visual yang lebih dominan sebagai daya tarik utama. Hasil studi ini diharapkan dapat menjadi referensi bagi para pengembang game lokal, sehingga ketiga unsur visual yang menjadi kekuatan daya tarik game visual novel dapat disesuaikan dengan kebutuhan pasar. Game visual novel yang dapat menarik perhatian dan memenuhi kebutuhan para penggunanya berpotensi menjadi lebih kompetitif di pasar global.
Downloads
Download data is not yet available.
References
Elkins, James. (2003). Visual Studies, A Skeptical Introduction, Routledge, New York and London.
Fiske, John. (2007). Cultural and Communication Studies, Sebuah Pengantar Paling Komprehensif, Cet. IV, Jalasutra, Yogyakarta: Jalasutra.
Hiruma, Kawamata. (2015). Twist - 00 Majapahit - Episode 06 - Tribhuwana, Hayam Wuruk. Diunduh dari https://www.youtube.com/watch?v=8D34kyqMefY
Kumoro, Nieko Lungido. (2017). Representasi Sensualitas Karakter Perempuan Dalam Game Online (Analisis Semiotika Tentang Sensualitas Pada Karakter Heroes Perempuan Dalam Game Online DOTA2), Skripsi, Universitas Muhammadyah Surakarta. Diunduh 20 April 2018 dari http://eprints.ums.ac.id/58128/4/Jurnal%20Representasi%20Sensualitas%20Karakter%20Perempuan%20Dalam%20Game%20Online%20cek%20all%20e.pdf
Mulyana, Ph.D., M.A., Prof. Deddy. (2007). Ilmu Komunikasi, Suatu Pengantar, PT. Remaja Rosdakarya, Bandung.
Newman, James. (2004). Videogames. Routledge, London and New York.
Pratama, Dendi, Wardani, Winny Gunarti Widya, dan Akbar, Taufiq (22 April 2017). "Game Visual Novel Sebagai Produk Industri Kreatif: Digital: Analisis Simbolik Twist Majapahitâ€, dalam Seminar Nasional Multidisiplin Ilmu (Senmi) 2017, Universitas Budiluhur, Jakarta.
Pratama, D., Gunarti, W., and Akbar, T. (2017). Understanding Visual Novel as Arwork of Visual Communication Design, MUDRA Journal of Art and Culture, Vol. 32 No. 3, September 2017, 292-298. Diunduh 15 April 2018 dari http://jurnal.isi-dps.ac.id/index.php/mudra/article/viewFile/177/98
Setiadi, M., Dra. Elly., M.Si., A. Hakam, Dra. H. Kama, M.Pd., dan Drs. Ridwan Effendi, M.Ed. (2008). Ilmu Sosial dan Budaya Dasar, Edisi Kedua, Kencana Prenada Media Group, Jakarta.
Wardani, W.G.W., Listya, A., and Winarni, R. W. (2017). Political Campaign's Music Video As A Strategy For Forming Perceptions. International Journal of Scientific & Technology Research, Volume 6, Issue 11, November 2017, 95-98. Diunduh 15 April 2018 dari http://www.ijstr.org/final-print/nov2017/Political-Campaigns-Music-Video-As-A-Strategy-For-Forming-Perceptions.pdf
White, Tony. (2009). How To Make Animated Films, Tony White's Complete Masterclass on The Traditional Principles of Animation, Focal Press, Imprint of Elsevier.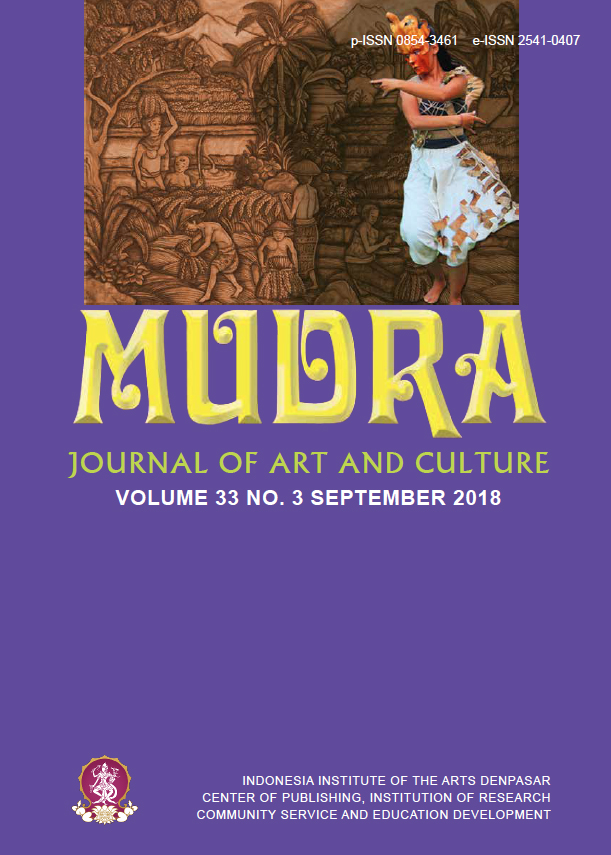 Downloads
How to Cite
Pratama, D., Wardani, W. G. W., & Akbar, T. (2018). The Visual Elements Strength in Visual Novel Game Development as the Main Appeal. Mudra Jurnal Seni Budaya, 33(3), 326–333. https://doi.org/10.31091/mudra.v33i3.455
License
Copyright on any open access article in a journal published by Mudra Jurnal Seni Budaya is retained by the author(s).

The Creative Commons Attribution License 4.0 formalizes these and other terms and conditions of publishing articles.