The Application of PETRUK in Cultural-Based Extracurricular Activities as an Effort to Internalize Local Wisdom Values
Yeni Agus Tri Puryanti

Prodi Pendidikan Pancasila dan Kewarganegaraan, Program Pascasarjana Universitas Negeri Yogyakarta, Jalan Colombo No 1, Yogyakarta, Indonesia

Marzuki Marzuki

Prodi Pendidikan Pancasila dan Kewarganegaraan, Program Pascasarjana Universitas Negeri Yogyakarta, Jalan Colombo No 1, Yogyakarta, Indonesia
Abstract
The research objectives are to describe:(1)The application of "PETRUK" in culture-based extracurricular activities as an effort to internalize the values ​​of local wisdom.(2)Supporting factors for the application of "PETRUK" in culture-based extracurricular activities as an effort to internalize the values ​​of local wisdom.(3)Factors inhibiting the application of "PETRUK" in culture-based extracurricular activities as an effort to internalize the values ​​of local wisdom. The research approach uses qualitative with descriptive type. This research was conducted at SMP Negeri 3 Banguntapan Bantul. Determination of research subjects is done by purposive method. Data collection is done by field observations, in-depth interviews, and documentation. Test the validity of the data using triangulation techniques, then data analysis using the interactive data analysis model of Miles, Huberman and Saldana. The results of research at SMP Negeri 3 Banguntapan Bantul show (1)Internalization of local wisdom values ​​using the application of "PETRUK" (a)the letter P means modeling, (b)the letter E means empowering, (c)the letter T means teaching, (d)the letter R means reinforcing,(e)the letter U means unique, (f)the letter K means comprehensive. The values ​​of local wisdom internalized in karawitan extracurricular activities are 15 values, batik 10 values, dance 12 values ​​which are guided by DIY PERGUB No. 68 of 2012. (2)Among the inhibiting factors are students' lack of awareness in joining extracurricular activities and students accustomed to modern culture. (3) Supporting factors include, getting support from parents, government and society.  
References
Agung, S. L. (2015). The development of local wisdom-based social science model with Bengawan Solo as the learning source. American International Journal of Social Science. Vol. 4, No. 4.
Ardiantoro. (2017). Penanaman nilai kearifan lokal pada sekolah berbasis budaya di SMP N 3 Banguntapan Yogyakarta. Yogyakarta: Skripsi tidak diterbitkan.
Fajarini, U. (2014). Peranan kearifan lokal dalam pendidikan karakter. SOSIO-DIDAKTIKA: Social Science Education Journal, Vol 1, No. 2.
Fatimah, F. N., Sulistiyo, E.T., & Sadhono, K. (2017). Local wisdom values in Sayu Wiwit folklore as the revitalization of behavioural education. Jornal of Social and Islamic Culture. Vol. 25, No. 1.
Fraenkel, J.R. (1977). How to teach about values: an analytic approach. New Jersey: Prentice-Hall, Inc.
Kamonthip & Kongprasertamon. (2007). Local wisdom, environmental protection and community development: the clam farmers in Tanbon Bangkhunsai, Phetchaburi Province Thailand. Manusya: Journal of Humanities. Vol 10 No. 1.
Nasiwan, dkk. (2012). Dari kampus uny untuk Indonesia baru. Yogyakarta: Penerbit ARTI.
Pemerintah Provinsi Daerah Istimewa Nomor 5 Tahun 2011 tentang Pengelolaan dan Penyelenggaraan Pendidikan Berbasis Budaya.
Peraturan Gubernur Daerah Istimewa Yogyakarta Nomor 68 Tahun 2012 tentang Penerapan Nilai-Nilai Luhur Budaya dalam Pengelolahan dan Penyelenggaraan Pendidikan.
Rahyono, F.X. (2009). Kearifan lokal dalam kata. Jakarta: Wedatama Widyasastra.
Ridwan, N.A. (2007). Landasan keilmuan kearifan lokal. Jurnal Studi Islam dan Budaya. Vol 5, No. 3.
Sisegar, Novika Bella Nurlia. (2018). Implementasi pendidikan karakter di SMP Negeri 3 Banguntapan Bantul berbasis budaya. Yogyakarta: Skripsi tidak diterbitkan.
Sularso. (2016). Revitalisasi kearifan lokal dalam pendidikan dasar. Jurnal Pendidikan Sekolah Dasar, 2 (1). https://media.neliti.com/media/publication/71218-ID-revitalisasi-kearifan-lokal-dalam -pendid.pdf. (Diakses pada 11 Januari 2019).
Wagiran. (2012). Pengembangan karakter berbasis kearifan lokal hamemayu hayuning bawana. Jurnal Kearifan Lokal. Tahun II, No. 3.
Widodo, Petrus. (2017). Manajemen kurikulum pendidikan berbasis budaya di SMPN 3 Banguntapan Bantul. UNY: Tesis tidak dipublikasikan.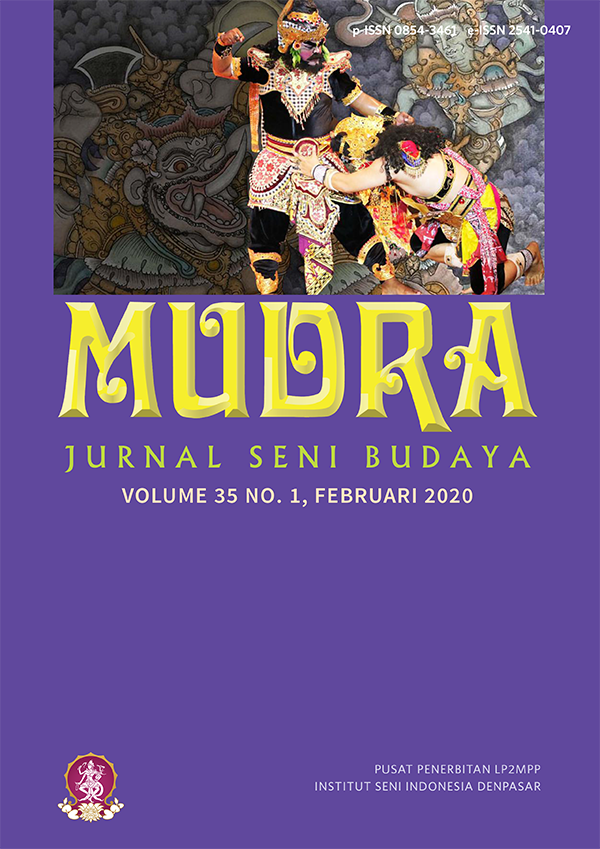 How to Cite
Puryanti, Y., & Marzuki, M. (2020). The Application of PETRUK in Cultural-Based Extracurricular Activities as an Effort to Internalize Local Wisdom Values. Mudra Jurnal Seni Budaya, 35(1), 83-93. https://doi.org/10.31091/mudra.v35i1.925
Copyright (c) 2020 Yeni Agus Tri Puryanti, Marzuki Marzuki
This work is licensed under a Creative Commons Attribution-NonCommercial 4.0 International License.
Copyright on any open access article in a journal published by Mudra Jurnal Seni Budaya is retained by the author(s).

The Creative Commons Attribution License 4.0 formalizes these and other terms and conditions of publishing articles.