Light Pattern, Labirin Ruang Masif
I Wayan Sujana

Jurusan Seni Murni, Fakultas Seni Rupa dan Desain, Institut Seni Indonesia

Tjok Istri Ratna Cora Sudharsana

Jurusan Desain Mode, Fakultas Seni Rupa dan Desain, Institut Seni Indonesia
Keywords:
light pattern, seni rupa pertunjukan, intermingle
Abstract
Penelitian ini bertujuan untuk menemukan dan mempertunjukkan "intermingle art project Light Pattern, Labirin Ruang Masif"  berbasis seni rupa pertunjukan untuk menjawab kurangnya seni rupa pertunjukan kontemporer yang berbasis riset. Permasalahan yang dirumuskan dalam penciptaan ini adalah   Situasi dan keadaan psikologis seperti apa dari bentuk intermingle antara drawing on novel dengan seniman-seniman ? Gagasan atau konsep praksis seperti apa terekspresikan dari intermingle drawing on novel? Bagaimana bentuk presentasi intermingle art project ini ke ruang publik tertentu? Teori yang digunakan dalam penelitian ini adalah significant form, aesthetic relational serta teori presentasi, teori-teori tersebut sangat menunjang dalam penelitian. Pengumpulan data melalui observasi partisipatori, wawancara, dan studi kepustakaan. Model analisis interaktif digunakan dalam menyajikan data dan penyajian hasil analisis data disajukan secara informal dan formal. Hasil penelitian menunjukkan setiap seniman melahirkan sudut pandang yang berbeda sesuai dengan bidang seni yang ditekuni. Berbagai bentuk seni muncul: visual, verbal, sound, dan kenestetik seni kontemporer. Dipresentasikan dengan layer-layer ulang-alik senirupa-senipertunjukan.
References
Hawkins, Alma.M. 1991. Moving from Within: A New Method for Dance Making. A Cappella Books (IL). English

Ratna Cora, Tjok Istri. 2011. "Wacana Fesyen Global dan Pakaian di Kosmopolitan Kuta". disertasi Program Doktor. Program Studi Kajian Budaya. Program Pascasarjana Universitas Udayana. Denpasar

Widodo, Triyono. 1999. Seni Lukis Dasar. Malang: IKIP Malang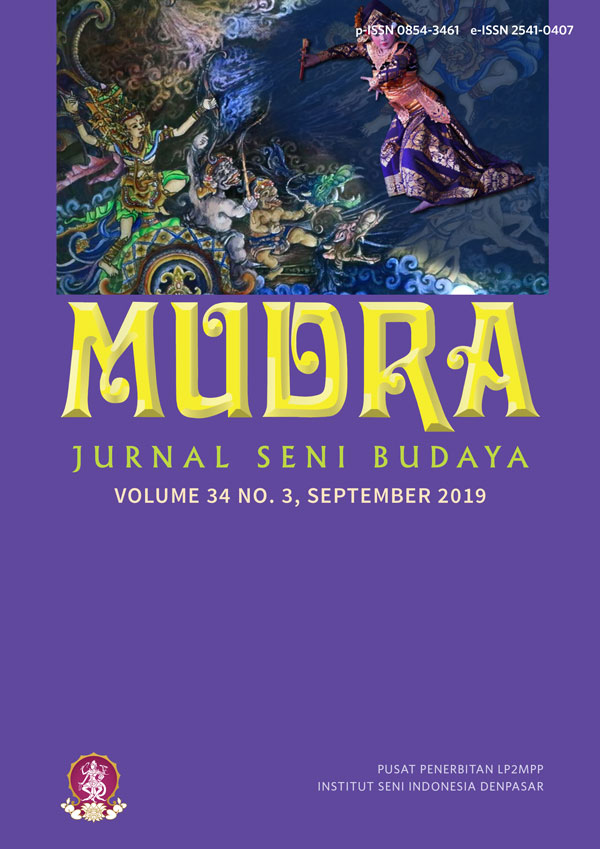 How to Cite
Sujana, I. W., & Ratna Cora Sudharsana, T. I. (2019). Light Pattern, Labirin Ruang Masif. Mudra Jurnal Seni Budaya, 34(3), 411-416. https://doi.org/10.31091/mudra.v34i3.799
Copyright on any open access article in a journal published by Mudra Jurnal Seni Budaya is retained by the author(s).

The Creative Commons Attribution License 4.0 formalizes these and other terms and conditions of publishing articles.