Pengungkapan Estetika Fotografi "Instagramable" Di Era Pariwisata Destinasi Digital
Aji Susanto Anom

Visual Communication Design, Faculty of Technology Industry & Informatics, Telkom Institute of Technology Purwokerto

Monica Revias Purwa Kusuma

Visual Communication Design, Faculty of Technology Industry & Informatics, Telkom Institute of Technology Purwoker
Keywords:
destinasi digital, fotografi, instagram, pariwisata, estetika
Abstract
Salah satu strategi utama KEMENPAR dalam menarik wisatawan di tahun 2018 adalah menggunakan strategi "Destinasi Digital". Destinasi digital adalah strategi dimana pemangku kepentingan menciptakan suatu kondisi yang viral di media sosial berkaitan dengan objek wisata. Untuk menciptakan kondisi viral tersebut, KEMENPAR menciptakan spot-spot di objek wisata yang fotogenik sehingga wisatawan kemudian tergerak untuk merekam dan membagi pengalaman wisata mereka di media sosial khususnya Instagram. Salah satu faktor penting dalam menarik wisatawan lain dalam strategi "Destinasi Digital" adalah karya fotografi yang merekam keindahan pengalaman mereka di objek wisata dalam bingkai estetika "Instagramable". Oleh karena itu penelitian ini bertujuan untuk mengungkapkan estetika "Instagramable" yang mengkonstruksi keindahan persuasif karya-karya fotografi tersebut. Hasil dari penelitian ini adalah analisis deskriptif kualitatif melalui teori Estetika Fotografi dari gaya-gaya visual yang mengkonstruksi estetika "Instagramable", khususnya dalam mem-viral-kan objek wisata di Era "Destinasi Digital".
References
Acuan dari buku dengan satu, dua, dan tiga penulis
Fatanti, M.N.,& Suyadnya, I.W. (2015). Beyond User Gaze: How Instagram Creates Tourism Destination Brand?. Procedia – Social and Behavioral Sciences, 211, 1089-1095: http://doi.org/10.1016/j.sbspro.2015.11.145

Acuan Bab dalam Buku
Liu, B. (2016). A Flash of Culinary Tourism : Understanding The Influences of Online Food Photography on People's Travel Planning Process on Flickr, (January 2013)

Soedjono, Soeprapto. 2007. Pot-Pourri Fotografi. Jakarta. Universitas Tri Sakti.

Soedjono, Soeprapto. 2009. Fotografi dalam Konstelasi Budaya Visual Indonesia. Buklet Pengukuhan Guru Besar Prof. Drs. Soeprapto Soedjono. Yogyakarta:BP ISI.

Pramana, I Made Bayu. Desember 2017. Kajian Estetika Fotografi pada Kartu Pos Pariwisata Bali Karya Sujana Tahun 1970-1990am. Jurnal Prabangkara. ISSN 1412-0380. Vol 21 : Nomer 2. 80-85.

Acuan dari dokumen online (website/internet)
http://validnews.co/Optimalisasi-Ekosistem-Kepariwisataan-Via-Digital-lCy

http://mediaindonesia.com/read/detail/153511-destinasi-digital-berpotensi-tarik-wisatawan-milenial

https://www.viva.co.id/gaya-hidup/travel/1018847-destinasi-digital-pertama -di-dunia-ada-di-indonesia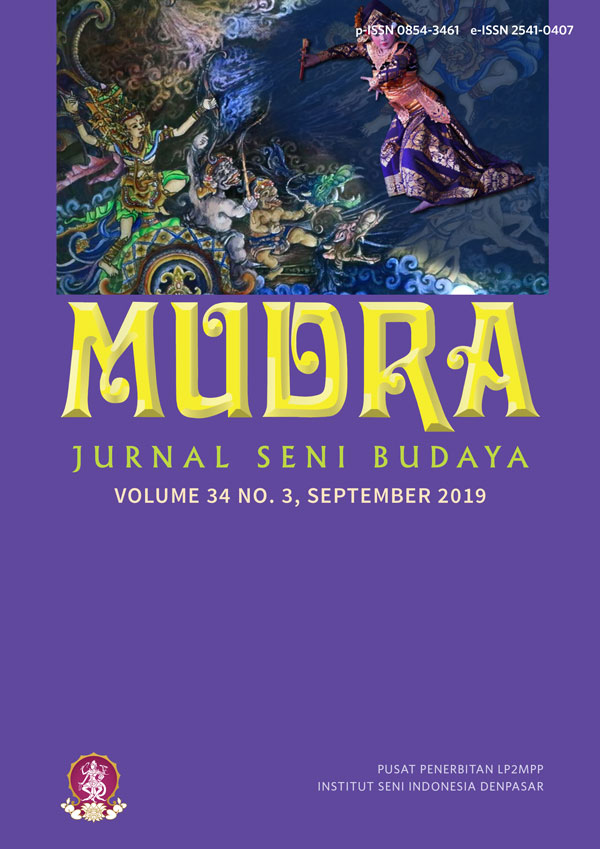 How to Cite
Anom, A., & Revias Purwa Kusuma, M. (2019). Pengungkapan Estetika Fotografi "Instagramable" Di Era Pariwisata Destinasi Digital. Mudra Jurnal Seni Budaya, 34(3), 319-324. https://doi.org/10.31091/mudra.v34i3.787
Copyright on any open access article in a journal published by Mudra Jurnal Seni Budaya is retained by the author(s).

The Creative Commons Attribution License 4.0 formalizes these and other terms and conditions of publishing articles.