Visual Adaptation Of Wayang Characters In Teguh Santosa's Comic Art
Mohammad Isa Pramana Koesoemadinata

Visual Communication Design Programme, School of Creative Industries, Telkom University, Bandung
Keywords:
Teguh Santosa, comic, wayang, adaptation
Abstract
Wayang tradition with its Indian epics of Mahabharata and Ramayana adaptations is the Indonesian high culture acknowledged by UNESCO since 2003. Its stories and characterizations has become philosophical, moral ethics and character learning for the young generations. Those Indian epics have acculturated in every aspect of theatrical and visual arts which are presented in shadow puppet theatre. As the part of traditional visual art, the visual aspect of wayang puppet consists of particular and systematic patterns (systems), in relation to role and characterization. In accordance with technological development, the famous epics of wayang are presented through popular modern media such as comic. Comic art is a popular media which adored by children and teenagers due to its visual narrative appeal. Many Indonesian comic artists such as Ardisoma, R.A. Kosasih, Oerip and Teguh Santosa adopt wayang epics through their own styles. The later artist, Teguh Santosa with his unique visual styles, has contributed color in wayang genre of Indonesian comic. Mostly, parallelities between Teguh's style and the visual system of wayang role and characterization are detected. This paper discusses how visual adaptations of protagonists and antagonists wayang characters into Mahabharata comic series created by Teguh take place. Those visual adaptations are compared with the visual system of Javanese wayang puppetry, analyzed qualitative-descriptively with Sociology of Art and Aesthetical Morphology (Art Critic) methods. The results indicate that Teguh comprehends the essence of Javanese wayang's visual aspect, since he adapted it with his own style yet still retains the visual system of Javanese wayang role and characterization.Tradisi Perwayangan dengan adaptasi wiracarita Mahabharata dan Ramayana adalah budaya adiluhung Indonesia yang sudah diakui UNESCO sejak 2003.  Kisah-kisah dan penokohannya dijadikan model pembelajaran filsafat, etika moral dan karakter kepada generasi muda.  Kisah-kisah tersebut mengalami akulturasi dalam berbagai aspek seni pertunjukan dan senirupa, di mana mereka disajikan dalam pertunjukan wayang kulit.  Rupa boneka wayang kulit sendiri sebagai artefak senirupa tradisi memiliki pola yang khas dan sistematis, terkait dengan aspek perwatakan dan raut peranan tokoh.  Seiring perkembangan zaman, kisah-kisah terkenal Perwayangan seperti Mahabharata dan Ramayana disajikan melalui media modern populer seperti komik.  Komik adalah media populer yang lazim digemari anak-anak dan remaja karena memiliki daya tarik berupa narasi visual.  Banyak komikus Indonesia mengadaptasi kisah perwayangan dengan gayanya masing-masing, seperti Ardisoma, R.A. Kosasih, Oerip, termasuk Teguh Santosa.  Teguh Santosa (1942 – 2000) dengan kekhasan gaya visualnya telah memberikan nuansa tersendiri dalam komik indonesia khususnya genre perwayangan. Terlebih lagi penulis mendapati adanya kesejajaran pola visual antara gaya Teguh dengan pola rupa wayang kulit terkait perwatakan atau raut peranan tokoh.  Tulisan ini mengkaji bagaimana adaptasi visual pada beberapa tokoh wayang protagonis dan antagonis dalam seri komik Mahabharata (1983-1985, 1986-1987) sisipan majalah Ananda dan terbitan Misurind karya Teguh Santosa.  Adaptasi visual tersebut diperbandingkan dengan pola visual wayang kulit Jawa, dianalisis secara kualitatif-deskriptif, dengan pendekatan Sosiologi Seni dan Morfologi Estetik (Kritik Seni).  Hasil analisis menunjukkan bahwa Teguh sebagai komikus memang memahami betul esensi rupa wayang Jawa, karena ia mengadaptasinya dalam komik dengan gaya visualnya sendiri namun tetap mempertahankan pola visual raut peranan dari wayang kulit Jawa.
References
Ahmadi, Agus. (1994). Tatahan Wayang Kulit Purwa Gaya Surakarta. Laporan Penelitian, STSI Surakarta.
Ajidarma, Seno Gumira. (Minggu, 15 Desember 2002), Sastra Film dalam Komik Teguh Santosa. www.kompas.com/kompas-cetak/0212/15/seni/ sast18.htm.
Beaty, B. (2012), Comic versus Art, University of Toronto Press, Toronto.
Bonneff, Marcel. (1997), Komik Indonesia, Kepustakaan Populer Gramedia, Jakarta.
Darmawan, Hikayat. (26 Februari 2006), Cerita Sampul. Tonggak-tonggak Novel Grafis. Akademi Samali. http://www.ruangbaca.com/ruangbaca.
Gunawan, Iwan. (April 2018), "Cerita-Gambar, highlight Perkembangan CerGam di Indonesia 1925-1985". Dalam Brosur Pameran Gudang Garam Art Award 2018: Dunia Komik "Bahasa Budaya Cerita Gambar", halaman xviii-xii, Yayasan Seni Rupa Indonesia, Galeri Nasional Jakarta.
Hardjowirogo. (1949), Sedjarah Wajang Purwa, Penerbit Balai Pustaka, Jakarta.
Koesoemadinata, Moh. Isa Pramana. (2013), Diferensiasi Rupa Tokoh Danghyang Dorna pada Wayang Kulit Cirebon, Disertasi Program Doktor Ilmu-ilmu Seni Rupa dan Desain Institut Teknologi Bandung.
_____________________________ & Dimas Krisna Aditya. (November 2016), "Visualizations of Wayang Characters in Comics (Case Study: Bima and Arjuna Characters in the Arts of Ardisoma, Teguh Santosa and Is Yuniarto)". Dalam Prosiding The 3rd International Conference on Creative Industries, Bandung Creative Movement (BCM) 2016, vol.2 November 2016, Fakultas Industri Kreatif, Telkom University, Bandung,
Masdiono, Toni & Okky Ardya W. (2007), "Cergam dari Masa ke Masa" dalam artikel majalah Concept, Majalah Desain Grafis, Volume 04 Edisi 20 Tahun 2007, page 20-23, PT. Concept Media, Jakarta.
McCloud, S. (2007), Membuat Komik, Gramedia Pustaka Utama, Jakarta.
Nirwana, Aditya & Ginting, Daniel. (Februari 2017), "Nilai Kemanusiaan dalam Bingkai Pluralisme dan Multikulturalisme dalam Komik Sandhora (1970) karya Teguh Santosa", dalam ANDHARUPA, Jurnal Desain Komunikasi Visual & Multimedia, Vol.03 No.01 Tahun 2017, Universitas Dian Nuswantoro, Semarang.
Pramana, Moh. Isa, Yustiono & Wiyoso Yudoseputro. (Agustus 2007), "Unsur Tasawuf dalam Perupaan Wayang Kulit Purwa Cirebon & Surakarta". Dalam ITB Journal of Visual Art & Design, ISSN 1978-3078, Vol.1, No.2, August 2007, Institut Teknologi Bandung.
Redaksi Majalah Hai. (1977), «Teguh Santosa: Jualan Amplop Sebelum 'Main Silat' ». Artikel Bonus Majalah Remaja Hai, PT. Gramedia Group, Jakarta.
Soewirjo, Budi Adi. (1997), Kepustakaan Wayang Purwa, Yayasan Pustaka Nusatama & Senawangi, Yogyakarta.
Solichin. (2010), Wayang, Masterpiece Seni Budaya Dunia, Sinergi Persadatama Foundation, Jakarta.
Suardana, I Wayan. (2001), Studi Komparatif Gambar & Tulis Seni Prasi Wayang dengan Komik Cerita Wayang Klasik di Indonesia. Tesis Program Magister Pascasarjana Seni Rupa dan Desain. Institut Teknologi Bandung.
Suwarno, Bambang. (1999). Wanda Wayang Kaitannya dengan Pertunjukan Wayang Kulit Purwa Jawa Masa Kini. Tesis Progran Studi Pengkajian Seni Pertunjukan Jurusan Ilmu-ilmu Humaniora Universitas Gadjah Mada Yogyakarta.
Pustaka Wayang 02. https://wayangpustaka02. wordpress.com/tag/ gambar-wayang-kulit-purwa-resolusi-tinggi/
Valiandra, Dhany. (2016). "Mengintip Proses Kreatif Teguh Santosa". Dalam Malik, A. and Jai, S. (editors); Maestro of Darkness: Teguh Santosa, 1942-2000. Media Nusa Creative, Malang.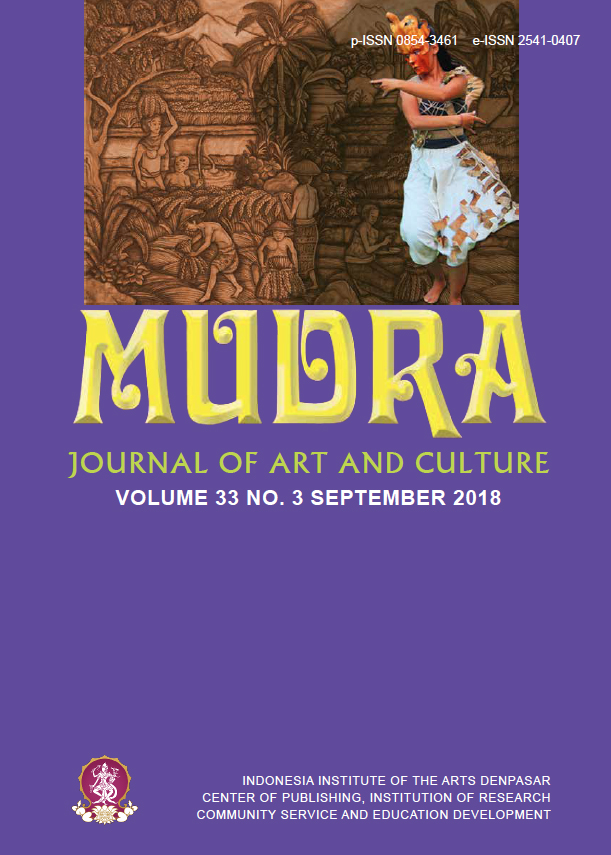 How to Cite
Isa Pramana Koesoemadinata, M. (2018). Visual Adaptation Of Wayang Characters In Teguh Santosa's Comic Art. Mudra Jurnal Seni Budaya, 33(3), 401-408. https://doi.org/10.31091/mudra.v33i3.544
Copyright on any open access article in a journal published by Mudra Jurnal Seni Budaya is retained by the author(s).

Authors grant Mudra Jurnal Seni Budaya a license to publish the article and identify itself as the original publisher.

Authors also grant any third party the right to use the article freely as long as its integrity is maintained and its original authors, citation details and publisher are identified.

The Creative Commons Attribution License 4.0 formalizes these and other terms and conditions of publishing articles.