Pendekatan Antropometri Kaki Orang Indonesia Pada Desain Master Shoe Last Bagi Industri Kecil dan Menengah
Caecilia Sri Wahyuning

Institut Teknologi Nasional

Mohamad Arif Waskito

Institut Teknologi Nasional
Abstract
Penelitian ini bertujuan untuk mengevaluasi faktor yang memengaruhi kualitas shoe last di Industri Kecil dan Menengah (IKM) persepatuan, yang dilihat dari dimensi dan bentuk shoe last tersebut. Sepatu dituntut memiliki kenyamanan sebagai salah satu aspek penting dalam perancangan sepatu, yang ditentukan oleh dimensi dan bentuk shoe last yang dipengaruhi oleh bentuk master shoe last. Peran shoe last belum dilihat sebagai salah satu aspek penting oleh pengrajin di IKM persepatuan, sehingga aspek modelnya saja yang lebih diprioritaskan. Oleh karena itu, terdapat ketidakseragaman ukuran dalam penomoran sepatu dan ketidaksesuaian ukuran sepatu dengan standar ukuran pada sistem mondopoint maupun Eropa. Selain itu, terjadi juga kesalahan proses pembentukan pada tahapan perancangan master shoe last. Perubahan bentuk kaki (punggung kaki/ lengkung kaki/ dan tumit) saat menggunakan sepatu/sandal dan high heel, kurang diperhatikan oleh pengrajin master shoe last sehingga tidak sesuai dengan karakter kaki orang Indonesia. Titik kelemahan dalam pembuatan master shoe last, terdapat pada bentuk toe-box dan back counter. Hasil penelitian ini adalah prototype master shoe last, yang telah disesuaikan dengan antropometri kaki dan karakteristik kaki orang Indonesia.  
References
Azhari, M. A., Wahyuning, C. S., & Irianti, L. (2015). Rancangan Produk Sepatu Olahraga. Reka Integra No.04, Vol.03, 241-252.
Baba, K. (1975). Foot Measurement for Shoe Construction with reerence to the Relationship Between Foot Length, Foot Breadth, and Balll Girth. Journal Human Ergology, Vol. 3, 149-156.
Barnish, M. S., & Barnish, J. (2016). High-heeled Shoes And Musculoskeletal Injuries: A Narrative Systematic Review. BMJ Open, 6, e010053.
Finding the right shoe size with Sioux. (2018, July 29). Retrieved from Sioux: https://www.sioux.de/en/shoe-know-how/shoe-size-and-fit/shoe-size-conversion/
Gerdes, A. (2013). AG Leathers. Retrieved from http://www.agleathers.com/:http:// www.agleathers.com/product/free-e-book-shoes-dont-fit/
Goonetilleke, R. S. (2012). The Science of Footwear. CRC Press.
Lee, S. (2011). Combined Effects of High-heeled Shoes and Load Carrriage on Gait and Posture in Young Healthy Women. Ottawa: School of Human kinetics Faculty of Health Sciences University of Ottawa.
Lin, L.-Y., & Chen, C.-H. (2015). Innovation and Ergonomics Consideration for Female Footwaear Design. Procedia Manufacturing 3, 5867-5873.
Mardani, R. (2014). Analisis Kesesuaian Antropometri Kaki Orang Indonesia dengan Ukuran Sepatu British, Amerika, dan Eropa. Yogyakarta: Universitas Gajah Mada.
Pivecka, J. (1994). Practical Handbook on Shoe Production. Eschborn: Protrade: Footwear and Leathergoods Division.
Shoesizes.co. (2018, July 30). Retrieved from The Official International Shoe size Conversion Chart: http://www.shoesizes.co/
Sulistyadi, K., & Susanti, S. L. (2003). In Perancangan Sistem Kerja dan Ergonomi. Jakarta: Departemen Pendidikan Nasional Direktorat Jenderal Pendidikan Tinggi Jurusan Teknik Industri Fakultas Teknik Universitas Sahid.
Sunarya, D. (2018, February 12). Cara pembuatan shoe last sepatu. (M. A. Waskito, Interviewer)
Waskito, M. A., & Wahyuning, C. S. (2013). Perancangan Master She Last Seagai Usaha Meningkatkan Kualitas Ergonomi Poduk Sepatu Wanita yang Dikembangkan Melallui Metoda Quality Function Deployment. Bandung: LPPM - Itenas.
Younus, D. M., Ali, D., Memon, D. A., Ismail, D., & Qazi, D. (2014). High Heel Shoes; Outcome of Wearing in Young Generation:A Cross Sectional Study. The Professional Medical Journal, 7.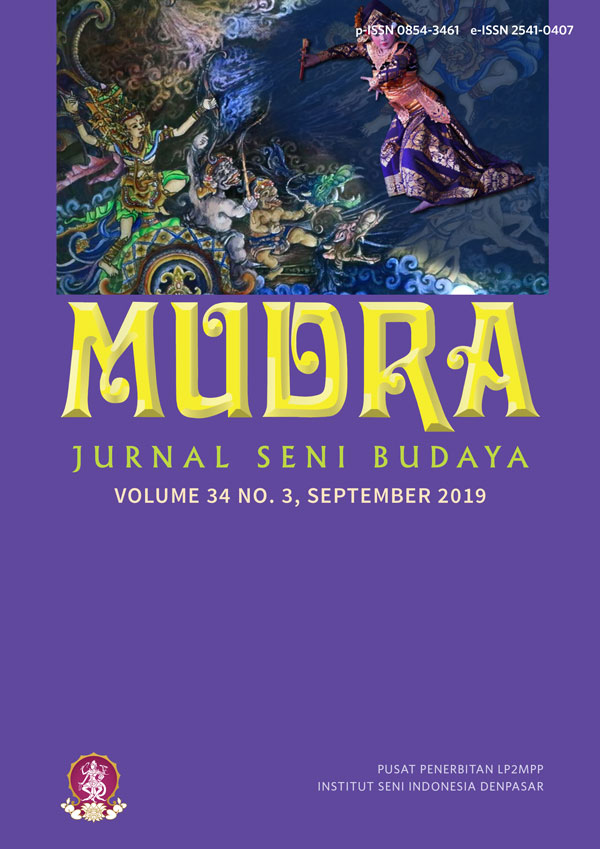 How to Cite
Wahyuning, C., & Waskito, M. (2019). Pendekatan Antropometri Kaki Orang Indonesia Pada Desain Master Shoe Last Bagi Industri Kecil dan Menengah. Mudra Jurnal Seni Budaya, 34(3), 291-298. https://doi.org/10.31091/mudra.v34i3.532
Copyright (c) 2019 Caecilia Sri Wahyuning, Mohamad Arif Waskito
This work is licensed under a Creative Commons Attribution-NonCommercial 4.0 International License.
Copyright on any open access article in a journal published by Mudra Jurnal Seni Budaya is retained by the author(s).

The Creative Commons Attribution License 4.0 formalizes these and other terms and conditions of publishing articles.