The Reflection of Society Culture in Visual Art Illustration of Javanese Manuscript
Keywords:
illustration, Indonesian illustration tradition, colonialism, old Javanese manuscript
Abstract
The tradition of writing and drawing in illustration was found in the old manuscript. Some parts of those old manuscripts show unique illustrations as well as the local identity of Nusantara's society. The manuscript reflects the society culture of thinking and aesthetic achievement of visual art. The Illustrations of old Javanese manuscripts were well documented and has various representation in visualization art and style, drawing method, theme, and visual objects, even though the visualization of the visual concepts is practically similar to another. The illustration in the old Javanese manuscript in 1800-1920 shows continuous correlation of the visual language in the past era to the present and becomes the characteristics of Indonesian visual states. It reflects the structured illustration and style as well as expression symbol of the Javanese society in that era. Illustration of the old Javanese manuscript in the year 1800-1920 has changed and developed its visual state as the interaction between the animism in the Pre-Hinduism era, cultural paradigm of Hinduism-Buddhism, Islamic and Colonialism. The illustration style of the old Javanese manuscripts is decorative, naturalistic, realistic, simplified form and deformative.

Tradisi menulis dan menggambar ilustrasi ditemukan pada manuskrip lama Nusantara. Sebagian dari manuskrip lama Nusantara itu memuat ilustrasi yang unik dan khas menjadi identitas masyarakat Nusantara. Naskah-naskah tersebut merefleksikan ketinggian budaya berpikir dan pencapaian estetik bidang seni rupa pada masyarakat Jawa dimasa itu.  Sejumlah Manuskrip Jawa kuno didokumentasi dengan cukup baik, diantaranya merepresentasikan konsepsi seni dan ga-ya hidup pada masanya, juga memuat metode menggambar, objek visual, tema, dan konsep estetik yang tampaknya memiliki kesamaan satu dengan yang lain.  Hasil analisis pada Ilustrasi yang dipilih dalam manuskrip Jawa periode tahun 1800-1920 menunjukkan adanya benang merah yang muncul secara terus-menerus bahkan hingga saat ini.  Wujud visual art ilustrasi menjadi ciri khas ilustrasi Indonesia, gaya ilustrasi yang  terstruktur dan menjadi  simbol ekspresi di era itu. Konsep estetik dan wujud visual Ilustrasi manuskrip Jawa kuno mengalami perubahan dan pengembangan  menunjukan gambaran dinamisasi interaksi antara paradigma animisme era Pra-Hindu, budaya Hinduisme-Buddha, Islam dan Kolonialisme. Gaya ilustrasi manuskrip Jawa kuno adalah bentuk dekoratif, naturalistik, realistis, disederhanakan dan deformatif.

 
Downloads
Download data is not yet available.
References
Adisasmito, S, 1935, Kitab Dewa Ruci, Pen. Jaw. Keb. Dep. PP & K Yogyakarta
Ali, Z,1994, Islamic Art in South East Asia, 830AD-1570 AD,, Percetakan Dewan Bahasa dan Pustaka, Selangor Darul Ehsan.
Amin, D, 2000, Sinkretisme dalam Masyarakat Jawa, Dalam Masyarakat Jawa, Dalam Islam dan Kebudayaan Jawa, Darori Amin(Ed), Jogyakarta, Gama Media
Chamber-Loir,H dan Fathurahman, O, 1999, Khazanah Naskah;Panduan Koleksi Naskah-naskah Indonesia, Sedunia-World Guide to Indonesian Manucript Collection, Seri Naskah dan Dokumen Nusantara, Ecole Francaise d'Extreme-Orient & Yayasan Obor Indonesia, Cetakan I, Jakarta.
Ciptoprawiro, A , 2000, Filsafat Jawa, Balai Pustaka
Damayanti,Nuning, Transformasi Wujud Visual dan Penggayaan Gambar Ilustrasi Jawa Periode 1800-1920, Disertasi, Program Doktor-FSRD ITB, 2007
Florida,N.K., 1995, Writing The Past, Inscribing The Future ( History as Prophesy in Colonial Java ), Duke University Press, Durham & London, 1995
Geertz,C , 1973, The Religion of Java, New York, The Free Press. N.Y.
Graff, H.J. de dan Th.G.Th.Pegeaud, (1985), Kajian Sejarah Politik Abad 15 dan 16 dalam Kerajaan-Kerajaan Islam Pertama di Jawa, Seri terjemahan Javanologi, hasil kerjasama Proyek Penelitian dan Pengkajian Kebudayaan Nusantara dan perwakilan Koninklijk.
Hildawaty, S, 1998, Introduction " Indonesian:The Art of Archipilago ", Dalam Indonesian Heritage. Vol.7 Visual Art, Singapore, Archipilago Press.
Holt, C, 2000, Melacak Jejak Perkembangan Seni di Indonesia, Penerbit Arti-line, Bandung
Hoop, A.N.J. Th. A.Th. van der : Indonesische Siermotieven,Koninkelijk Bat,Gen. van Kunsten en Wetenschap, 1949
Jong, DR.S.De, 1984, Salah satu Sikap Hidup Orang Jawa, Penerbit Yayasan Kanisius, Jogyakarta
Kempres, A.J.B,1959, Ancient Indonesia Art, C.P.J. Van der Peet Amsterdam, MCMLIX
Koentjaraningrat, (1997), Manusia dan Kebudayaan Indonesia, Djembatan, Jakarta
Kumar, A dan Mc. Glynn, John H., 1996, Illuminations, The Writing Traditions of Indonesia, New York, Published by Weatherhill, Inc. with Lontar Foundation.
Kusuma, S D, Kartakusuma,R, Rosyadi, Heryana A dan Soeratin A, 1997, Aksara, Indonesia Indah, Perum Percetakan Negara Republik Indonesia, Jakarta
Lombard, D, 1996, Nusa Jawa : Silang Budaya, Jilid I,II,III, Gramedia, Jakarta.
Mc. Glynn, J H, 1996, Language and Literatur, dalam Writing Tradition, Oral Tradition in Indonesian Heritage Vol.10, Singapore, Archipilago Press.
Moebirman, 1960, Wayang Purwa , The Shadow Play of Indonesia, The Hague, Amsterdam,
Mulder, N, 2005, Mysticysm in Java, Ideology in Indonesia, Pen. Kanisius, Yogyakarta
Mulyono, S, 1977, Wayang, Asal-Usul dan Filsafat masa Depannya, Gunung Agung, Jakarta.
Ossenbruggen,FDE, 1975, Asal-Usul Konsep Jawa Tentang Mancapat Dalam Hubungan dengan Sistem-Sistem Klasifikasi Primitif, (terj. Koentjaraningrat dkk), Bharata, Jakarta.
Pegeaud,T H., 1962, Java The 14th Century, a Study in Cultural History, Jilid IV, The Hafue, NY.
Pemberton, J, 1994, On The Subject of Jawa, Cornell University, Ithaca, Terjemahan oleh Hadikusumo, Hartono, 2004, Penerbit: Mata Bangsa,Jogyakarta,
Purwadi, 2001, Babad Tanah Jawa, Pen. Pustaka Ali Yogyakarta
Ricklefs,M. C.2005, Sejarah Indonesia Modern 1200-2004, Serambi, PT.Ikrar Mandiriabadi, Jakarta.
__________,2006, The Centhini Story, Published by Marshall Cavendish Editions, Singapore.
choemaker, C P W, 1924, Aesthetiek en Oorsprong der Hindoe-Knust of Java, CV Kolf, Bandung.
Simbolon, P T, 2006, Menjadi Indonesia, 2006, Grassindo, PT Kompas Media Nusantara, jakarta
Subagya, R, 1991, Agama Asli Indonesia, Sinar Harapan dan Yayasan Ciptaloka Caraka, Jakarta.
Suseno, F M, 2001, Etika Jawa, Sebuah Analisa falsafi tenteng Kebijaksanaan Orang Jawa, Penerbit PT. Gramedia Pustaka Utama, Jakarta ( 36-135 )
Tabrani, P, 2005., Bahasa Rupa, Penerbit "Kelir†, Bandung, Hl.95-110,111-160.
_________ ,1999, Sastra Wayang Beber, Lokakarya Penulisan Buku Pintar sastra Jawa, Pusat Pembinaan dan Pengembangan Bahasa, DEPDIKBUD.
_________,1998, Message From Ancient Walls, Bandung, Penerbit ITB.
__________,1990, Meninjau bahasa Rupa Wayang Beber Jaka Kembang Kuning dari Telaah Cara Wimba dan Tata Ungkapan Bahasa Rupa Media Rupa Rungu Dwimatra Statis Modern Dalam Hubungannya Dengan bahasa Rupa Gambar Prasejarah , Primitif, Gambar Anak dan Relief Cerita Lalita Vistara Borobudur, Disertasi, FSRD, ITB Bandung.
Tjandrasasmita, Uka, tt, Sepintas Mengenai Peninggalan Kepurbakalaan Islam di Pesisir Utara Jawa, Proy. Pelita Pembinaan Kepurbakalaan dan Peninggalan Nasional, Departemen P & K,tt
Uitgave dan Co, Nederlandsch Indie Oud & Nieuw 1919-1920,: Tijdschrift Nederl.Indie oud& Nieuw Vierde jaargang Amsterdam.
Van Der Hoop, A.N.J.,1949, Indonesia Ornamental Design, Royal Batavia Society of art and Science, Holland.
Yudosaputro, W, 1998, The Early Roots of Indonesian Art, Indonesian Heritage Visual Art, Volume Editor by Hilda Soemantri, Archipelago Press.
_____________,1998, Islamic Influences in Indonesian Art, Indonesian Heritage, Visual Art, Vol.7, Archipilago Press. ,Pen. Buku Antar Bangsa.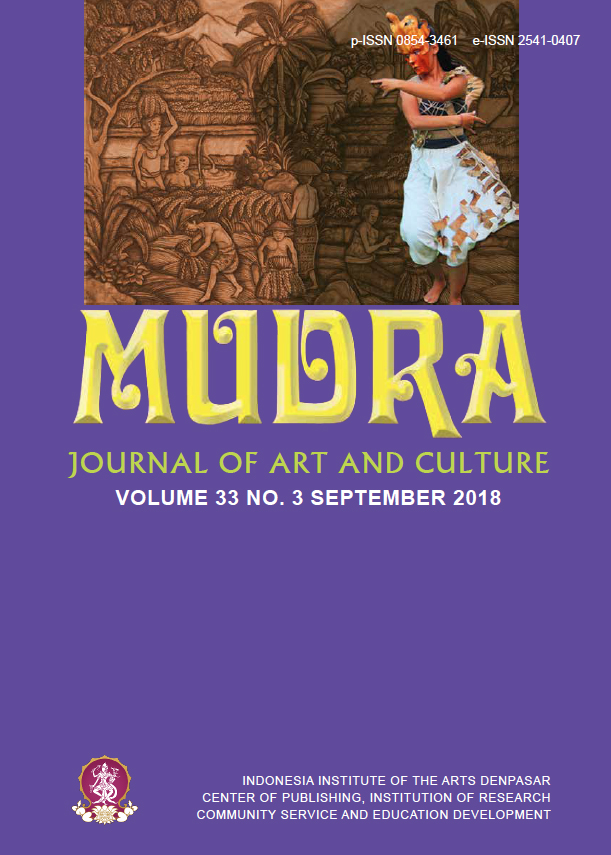 Downloads
How to Cite
Adisasmito, N. D. (2018). The Reflection of Society Culture in Visual Art Illustration of Javanese Manuscript. Mudra Jurnal Seni Budaya, 33(3), 374–382. https://doi.org/10.31091/mudra.v33i3.528
License
Copyright on any open access article in a journal published by Mudra Jurnal Seni Budaya is retained by the author(s).

The Creative Commons Attribution License 4.0 formalizes these and other terms and conditions of publishing articles.