Directing Of Documentary Bilingual "Lukisan Barong Gunarsa" In Exspository Style
Keywords:
documentary movie, Gunarsa, Barong Painting
Abstract
Latha Mahosadhi Museum of ISI Denpasar is a memorial place for displaying art objects. But the function of the museum as a center of art information cannot be realized because the information provided is only verbal information and not specific. So that information media is created in museum, namely bilingual documentary film. One of the interesting a film to be researched is "Lukisan Barong Gunarsa†by Nyoman Lia Susanthi as a director. The aim of this study is to determine the process of creating a documentary film that shows the side of Gunarsa as famous person and secret element that have never been published before. Based on it, documentary bilingual can be applied to other 127 objects collection. The method used qualitative. The data were obtained through observation, interview, and literature study. The result of this study was the director observed in three roles, such as: a leader, an artist and a technical advisor. The pre-production, the director created in the form of production concept, technical concept and story line. The concept of film was expository style with television documentary format using narrator as a single speaker. The director as a leader directed the cameraperson in taking pictures. In editing, director was involved directly in the process of arranging the images. The resulting visual beauty cannot be separated from the director's firmness that directed the taking of beauty shot. The director as a technical advisor was able to take over the role of cinematography, sound and editing.
Museum Lata Mahosadhi ISI Denpasar adalah tempat pemajangan benda seni baik dari Bali maupun luar Bali. Namun fungsi museum sebagai pusat informasi seni belum bisa terwujud karena informasinya hanya berupa verbal dalam Bahasa Indonesia dan tidak spesifik. Untuk itu dilakukan penelitian terkait media informasi efektif untuk museum yaitu bilingual dokumenter menggunakan 2 bahasa (Indonesia-Inggris). Salah satu bilingual dokumenter yang menarik untuk dikaji adalah film berjudul "Lukisan Barong Gunarsa†karya Nyoman Lia Susanthi sebagai sutradara. Alasan memilih konten ini karena terdapat elemen rahasia yang belum dipublikasikan yaitu makna dan deskripsi lukisan. Dalam proses pembuatan film maestro berpulang, sehingga film ini benilai informasi tinggi. Tujuan dari penelitian adalah mengetahui penyutradaraan film dokumenter yang menunjukkan sisi intim orang terkenal yaitu Gunarsa. Dengan mengetahui penyutradaraan film ini, maka dapat juga diterapkan penciptaan bilingual dokumenter pada 127 benda koleksi museum. Metode yang digunakan untuk mengetahui manajemen produksi film adalah kualitatif. Data diperoleh melalui observasi, wawancara, dan studi pustaka. Hasil penelitian ini adalah sutradara dalam melahirkan film diamati dalam tiga peran yaitu sebagai pemimpin, seniman dan penasehat teknis. Saat pra produksi sutradara berperan besar melahirkan konsep penciptaan berupa konsep karya, teknis serta story line. Konsep karya menggunakan gaya exspository, format dokumenter televisi dengan narator sebagai penutur tunggal. Peran sutradara sebagai pemimpin yaitu mengarahkan kameramen dalam mengambil gambar sesuai tuntutan cerita. Tahapan editing sutradara terlibat dalam proses penyusunan gambar. Keindahan visual yang dihasilkan juga peran sutradara yang turut mengarahkan pengambilan beauty shot. Sutradara sebagai penasehat teknis mampu mengambil alih peran teknis dalam sinematografi, tata suara dan editing.
Downloads
Download data is not yet available.
References
Arikunto, Suharsimi. 2006. Manajemen Penelitian. Jakarta: Rhineka Cipta
Ayawaila, Gerzon R. 2008. Dokumenter dari Ide Sampai Produksi. Jakarta: FFTV-IKJ PRESS
Effendy, Heru. 2004. Mari Membuat Film Panduan untuk Menjadi Produser. Yogyakarta: Panduan
FFTV-IKJ. 2008. Job Description Pekerja Film. Jakarta: KKTV IKJ
Matthew, Milles. 1992. Analisis Data Kualitatif. Bandung: PT. Remaja Rosdakarya
Pratista, Himawan. 2017. Memahami Film.Yogyakarta: Montase Press
Sarumpaet, Sam dkk. 2008. Job Description Pekerja Film. Jakarta: FFTV_IKJ dan KFT
Susanthi, Nyoman Lia dkk. 2017. Bilingual Dokumenter Sebagai Media Informasi Edukatif Guna Mendukung ISI Denpasar Menuju Centre of Excellence. Denpasar: Laporan Penelitian ISI Denpasar
Internet
Adam, S. (2018). Seni Lukis Sebagai Refleksi Ketidakberdayaan dan Keterpinggiran Cokek. Mudra Jurnal Seni Budaya, 33(1), 1-8. doi:http://dx.doi.org/10.31091/mudra.v33i1.323
Saidi, A., & TH Siregar, A. (2017). Dimensi Ruang Dalam Karya Rupa (Studi Interdisiplin Terhadap Seni Instalasi Oksigen Jawa Karya Hanafi). Mudra Jurnal Seni Budaya, 31(2).http://jurnal.isi-dps.ac.id/index.php/mudra/article/view/34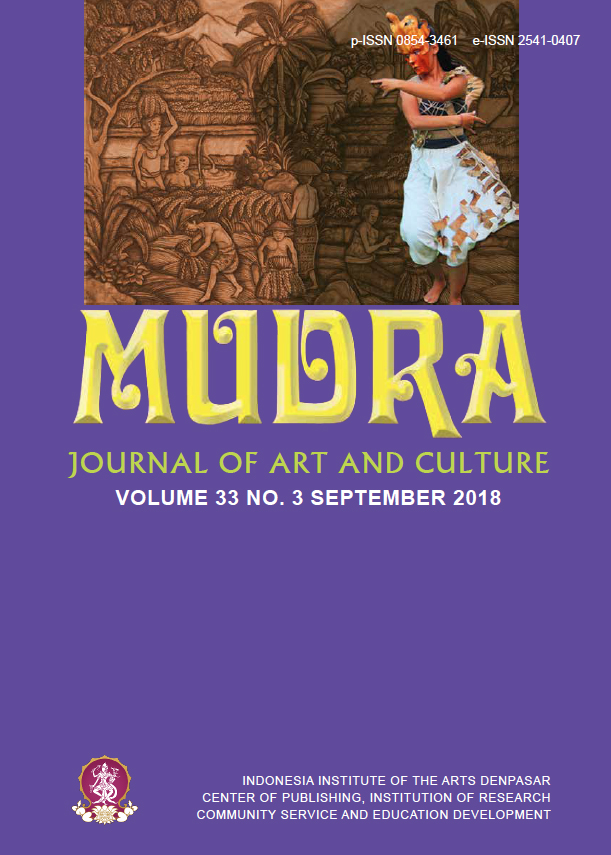 Downloads
How to Cite
Lia Susanthi, N., Dwiyani, N. K., & Puriartha, I. K. (2018). Directing Of Documentary Bilingual "Lukisan Barong Gunarsa" In Exspository Style. Mudra Jurnal Seni Budaya, 33(3), 345–359. https://doi.org/10.31091/mudra.v33i3.522
License
Copyright on any open access article in a journal published by Mudra Jurnal Seni Budaya is retained by the author(s).

The Creative Commons Attribution License 4.0 formalizes these and other terms and conditions of publishing articles.