Bajang Ratu Temple as Idea Resource for Batik Motif Creation
Keywords:
Creation, Batik, Motif
Abstract
Indonesian batik is rich in decorative motifs that are developing vastly to meet the current needs of the market. Batik has become a resource for creativity that supports the commodity of creative industries. This research is an experimental study on batik creations conducted through three stages: exploration, design and implementation. Bajang Ratu temple in Mojokerto, East Java Province in Indonesia has been used as the idea resource for creating batik. The objective of this research is to create new motifs that can be used for clothing or fashion. From the experiments conducted, several compositions of batik motifs have been produced such as those with motifs of animals, plants and man-made objects. Through this research, it is hoped that the results of the batik creations may increase the development of small to medium creative business units in Mojokerto.

Batik Indonesia memiliki kekayaan motif hias yang semakin berkembang dan tetap eksis menjawab kebutuhan masa kini. Batik menjadi sumber kreativitas yang mendukung perkembangan komoditas industri kreatif. Penelitian ini merupakan penelitian eksperimen penciptaan batik yang dilakukan secara ilmiah melalui tiga tahap, yakni eksplorasi, perancangan, dan perwujudan. Candi Bajang Ratu yang berada di Mojokerto, Jawa Timur Indonesia digunakan sebagai sumber gagasan penciptaann. Tujuan khusus yang ingin dicapai yakni terciptanya motif baru yang digunakan sebagai bahan kain sandang atau fesyen. Berdasarkan eksperimen yang telah dilakukan, dihasilkan karya batik dengan komposisi motif binatang, tumbuhan, dan benda buatan manusia. Hasil ciptaan diharapkan berpeluang untuk meningkatkan industri kreatif unit usaha kecil menengah masyarakat Mojokerto di Jawa Timur Indonesia.

 
Downloads
Download data is not yet available.
References
H. Santosa Doellah. (2002). Batik Pengaruh Zaman dan Lingkungan. Surakarta: Danar Hadi. Kenneth F. Bates. (1960). Basic Design: Principles and Practice. New York: The World PublishingCompany.
Otto G. Ocvirk, Robert E.Stinson, Philip R. Wigg, Robert O.Bone, David L. Cayton. (2006). Art Fundamental: Theory and Practice, New York: McGraw-Hill.
N.S. Djoemena. (1990). Ungkapan Sehelai Batik, Its Mistery and Meaning. Jakarta: Djambatan Franz Sales Meyer. (1957). Handbook of Ornament. New York: Dover Publication, Inc.
Fiona Kerlogue. (2004). The Book of Batik. Singapore: Archipelago Press, 136-138.
Sami Pihlström. (2002). "Pragmatism, Art, and the Real Worldâ€, in Action, Criticism, and Theory for Music Education. Vol.1, No.1, April, 1-30.
SP. Gustami. (2006). "Trilogi Keseimbangan Ide Dasar Penciptaan Kriya Seni: Untaian Metodologis, in Dewi Ruci: Jurnal Pengkajian dan Penciptaan Seni. Surakarta: Program Pendidikan Institut Seni Indonesia (ISI) Surakarta, Vol.4, No.1, 1-16.
SP. Gustami. (2007). Butir-Butir Mutiara Estetika Timur: Ide Dasar Penciptaan Seni Kriya Indonesia. Yogyakarta: Prasista.
Kusnin Asa. (2014). Mosaic of Indonesian Batik. Indonesia: Red & White Publishing dan Media Group.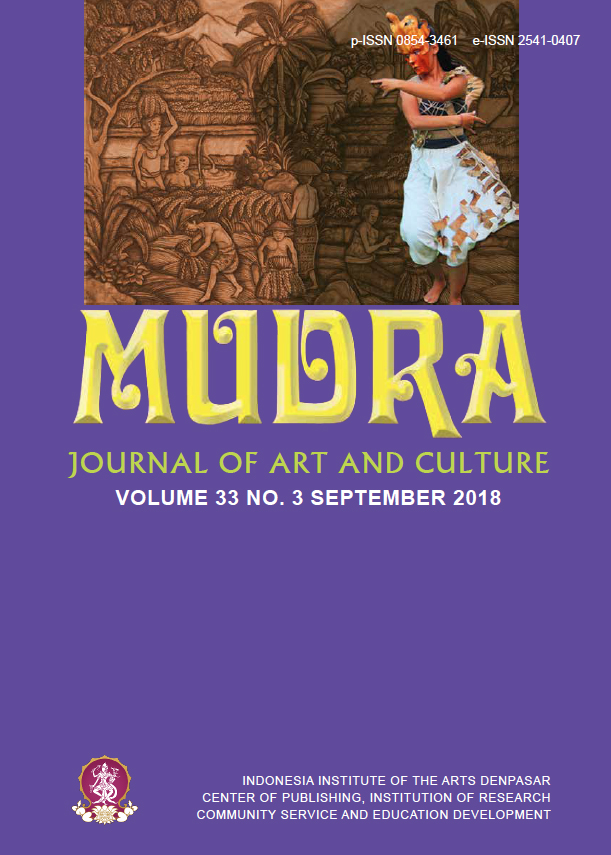 Downloads
How to Cite
Wardani, L. K., Sari, S. M., & Sitinjak, R. H. I. (2018). Bajang Ratu Temple as Idea Resource for Batik Motif Creation. Mudra Jurnal Seni Budaya, 33(3), 321–325. https://doi.org/10.31091/mudra.v33i3.519
License
Copyright on any open access article in a journal published by Mudra Jurnal Seni Budaya is retained by the author(s).

The Creative Commons Attribution License 4.0 formalizes these and other terms and conditions of publishing articles.