Women Aesthetics in Pundi Bank Advertisement from Cultural Studies Perspective
Keywords:
billboard advertisement, women aesthetics, contemporary icons
Abstract
Women aesthetics that are visualized in the billboard advertisement of Pundi Bank is a strategic activity to persuade consumer or society. This is intended to see the picture of female aesthetics and its significance in contemporary society through the billboard advertisement of Pundi Bank by identifying the signs contained. The method that is used in this study is semiotics. Semiotics is essentially a qualitative interpretative (interpretation) method that focuses on sign and text as a study object as well as on how researchers interpret and understand the code (decoding) of the sign and the text. This study gives the aesthetic female image presented in the ad message it appears to be of the election of the visual communication element, It's like photographic illustration, text, and color. The elements are arranged in such a harmony with the use of asymmetrical balance, making it look more attractive with a protrusion on the photographic illustration. The meaning that is delivered by Pundi Bank from this advertisement is a reflection of women's lifestyle reality in contemporary society. Furthermore, this advertisement is formed by many icons in which it can be interpreted as a symbol of contemporary woman. Besides that, Pundi Bank advertisement also has a construction of social reality which can be seen as denotative and connotative meaning.
Estetika perempuan yang divisuliasasikan dalam iklan billboard bank Pundi merupakan kegiatan yang strategis untuk mampu mempersuasif masyarakat konsumen. Tujuannya agar gambaran tentang estetika perempuan dan makna perempuan dalam masyarakat kontemporer yang ditampilkan oleh bank Pundi melalui iklan billboardnya dengan cara mengidenfikasi tanda-tanda yang terdapat dalam iklan tersebut. Penelitian ini menggunakan metode semiotika. Metode semiotika pada dasarnya bersifat kualitatif interpretatif (interpretation), yaitu sebuah metode yang memfokuskan pada tanda dan teks sebagai objek kajiannya, serta bagaimana peneliti menafsirkan dan memahami kode (decoding) dibalik tanda dan teks tersebut. Hasil penelitian ini memberikan gambaran estetika perempuan dihadirkan dalam pesan iklan itu tampak dari pemilihan unsur-unsur komunikasi visualnya, seperti ilustrasi fotografi, teks, dan warnanya. Unsur-unsur tersebut ditata sedemikian rupa secara harmonis dengan menggunakan keseimbangan asimetris, menjadikannya nampak lebih menarik dengan penonjolan pada ilustrasi fotografinya. Makna yang diciptkan iklan bank Pundi merupakan cerminan realita gaya hidup perempuan pada masyarakat kontemporer. Iklan bank Pundi juga banyak terbentuk oleh ikon-ikon yang dapat dimaknai sebagai simbul perempuan kekinian. Iklan bank Pundi juga memiliki konstruksi realitas sosial yang dapat dimaknai sebagai makna Denotatif dan Konotatif.
Downloads
Download data is not yet available.
References
Agger Ben. 2008. Teori Sosial Kritis, Kritik, Penerapan dan Implikasinya. Yogyakarta: Kreasi Wacana
Arsana I Gst Kt Gde. 2012. Aspek Epistemologi (Cara Kerja Keilmuan Kajian Budaya). Matrikulasi S3 Kajian Budaya Univ Udayana. Denpasar
Coble, P dan Janz,L. (2002). Semiotika for Beginners. Miza Media Utama: Bandung
Noviana Ratna. 2002. Jalan Tengah Memahami Iklan: antara Realitas, Representasi dan simulasi. Yogyakarta: Pustaka Pelajar
Kusrianto, A. (2007). Pengantar Desain Komunikasi Visual. Graphic Advertising Multimedia. Andi: Yogyakarta
Piliang, Yasraf Amir. 2003. Hipersemiotika Tafsir Cultural Studies atas Matinya Makna. Bandung:Jalasutra.
Piliang, Yasraf Amir. 2010. Post-Realitas: Realitas Kebudayaan dalam Era Post-Metafisika. Yogyakarta:Jalasutra
Piliang, Yasraf Amir. 2012. Semiotika dan Hipersemiotika. Kode, Gaya dan Matinya Makna. Bandung:Matahari
Rustam S,S.Sn. 2009. Mendesain logo. Jakarta:PT Gramedia Pustaka Utama
Zoest, A V. (1993). Semiotika, Tentang Tanda, Cara Kerjanya, dan Apa yang Kita Lakukan Dengannya. Yayasan Sumber Agung: Jakarta.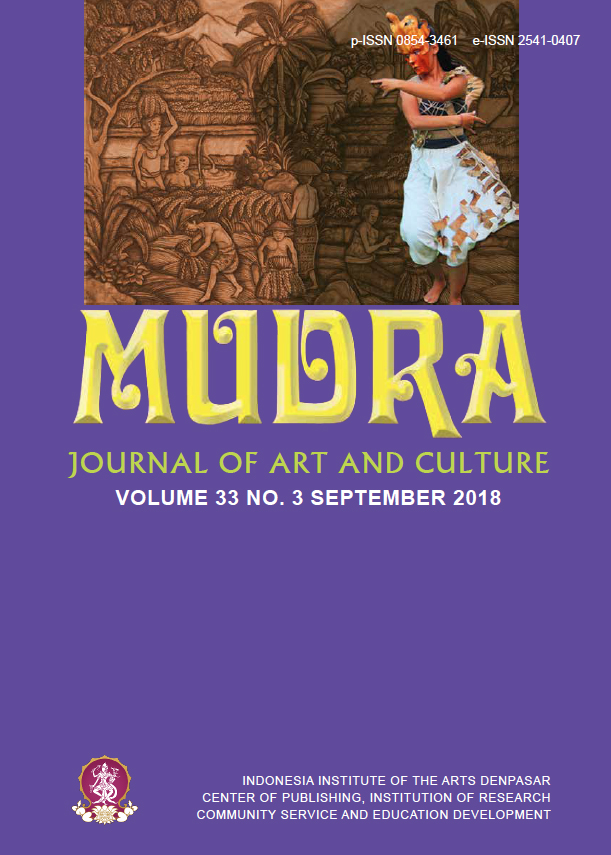 Downloads
How to Cite
Udayana, A. A. G. B. (2018). Women Aesthetics in Pundi Bank Advertisement from Cultural Studies Perspective. Mudra Jurnal Seni Budaya, 33(3), 324–320. https://doi.org/10.31091/mudra.v33i3.518
License
Copyright on any open access article in a journal published by Mudra Jurnal Seni Budaya is retained by the author(s).

The Creative Commons Attribution License 4.0 formalizes these and other terms and conditions of publishing articles.