Seni Perekaman Lagu 0 Tao Toba dan Pulo Samosir Karya Nahum Situmorang dengan Menggunakan Instrumental Akustik pada Jack's One Studio
Emmi Simangunsong

Program Studi Musik, Fakultas Bahasa Dan Seni, Universitas HKBP Nommensen Medan, Sumatera Utara, Indonesia

Junita Batubara

Program Studi Musik, Fakultas Bahasa Dan Seni, Universitas HKBP Nommensen Medan, Sumatera Utara, Indonesia

Sombama Tambunan

Program Studi Musik, Fakultas Bahasa Dan Seni, Universitas HKBP Nommensen Medan, Sumatera Utara, Indonesia
Keywords:
Recording, acoustic instrumental, 0 Tao Toba & Pulo Samosir, Jack's One Studio
Abstract
Artikel ini menjelaskan mengenai proses recording Di Jack's One Studio terhadap dua buah lagu tradisional Batak Toba yaitu 0 Tao Toba dan Pulo Samosir  Karya Nahum Situmoraug. Ada beberapa tahapau yang digunakan instruktur Jack's One Studio dalam recording musik instrumental akustik pada saat perekaman yaitu: Composing, Arrangging, Recording, Mixing, dan Mastering. Ini juga tidak hanya untuk deskrip tetapi menemukan dan mengetahui konsep dan aplikasi dalam pengerjaau perekaman dengan menggunakan musik program komputer khususnya untuk instrumental akustik.
References
Bangun, Jabatin. (2005), flmu Pengetahuan Dan
Seni, dalam Jurnal Etnomusikologi Vol.l (2)
:97-99. Universitas Sumatera Utara Medan. Indone­
sia.
Godfrey. (1993), Music Since 1945: Issues, Materi­ als and Literature. Belmont, California:
Cencage Learning.
Hodges, W.R. (2009), Ganti Andung, Gabe Ende (Replacing Laments, Becoming Hymns): The Changing
Voice of Indonesia). A Dissertation Submitted in partial Satisfaction of the Require­ ments for
the Degree Grief in the Pre-funeral Wakes of Protestant Toba Batak, North Sumatra, Doctor of
Philosophy in Music, University of California.
Komputer, Wahana. (2014), Adobe Audition CS6.
Semarang: Penerbit Andi.
Maim, W.P. 1967. Music Cultures of The Pasific Music The Near East and Asia.Prentice Hall Inc.
Englewood Cluffs, New Jersey.
Merriam, William P. (1964), The Anthropology of
Music.Northwestern University Press. Chicago.
Nettl,Bruno. (1964), Theory and Method in Ethno­ musicology. The Free Press, A Division of Mac­
millan Publishing Co. Inc. New York.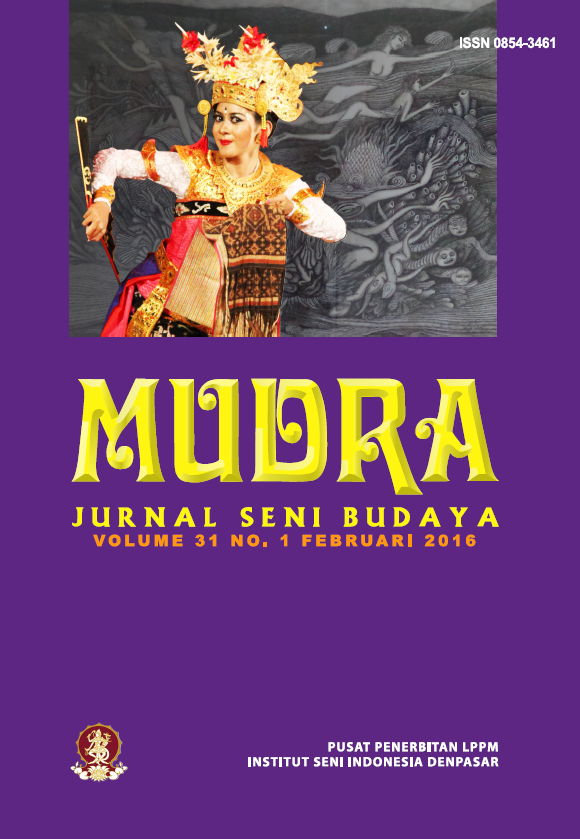 How to Cite
Simangunsong, E., Batubara, J., & Tambunan, S. (2016). Seni Perekaman Lagu 0 Tao Toba dan Pulo Samosir Karya Nahum Situmorang dengan Menggunakan Instrumental Akustik pada Jack's One Studio. Mudra Jurnal Seni Budaya, 31(1). https://doi.org/10.31091/mudra.v31i1.249
Copyright on any open access article in a journal published by Mudra Jurnal Seni Budaya is retained by the author(s).

The Creative Commons Attribution License 4.0 formalizes these and other terms and conditions of publishing articles.