The Ceramics of Singkawang: Dayak Kanayatn's Cultural Perceptions in Kalimantan Barat
Iwan Pranoto

Pendidikan SENDRATASIK, FKIP Universitas Palangkaraya

Vitta Diana Siahaan

Triyanto Triyanto

Tjetjep Rohendi Rohidi
Keywords:
perception, ceramics, dayak kanayatn
Abstract
This study examines the cultural perceptions of Dayak Kanayatn community on Singkawang ceramics. The scope of the problem includes, aesthetic, community perception, and ceramics function based on cultural perception. The research location was in Sebetuk, Antan Rayan Village, Ngabang District, Landak Regency, Kalimantan Barat. A qualitative design in the form of case studies was used. Data were gathered  using observation, interviews, and documents. The findings of this study overall proved that Singkawang ceramics owned by Dayak Kanayatn community influenced by Chinese culture as seen on boko'o, siam, jampa, tajau, karokot, siton, twakag ba'butuh, banyanyi, karere, balangkas, oncok tabu, plate variants, tetek ijo. Dayak Kanayatn community believe on ceramics as an incarnation of the ancestors and referred as a tangah symbolized by the variety of decoration and form. The ceramics are used by the community as media for several activities as well on law regulations and are considered as a link between humans and ancestral spirits of the Dayak Kanayatn tribe.
References
Adhyatman, S. Ridho, A. 1984. Tempayan di Indonesia. Jakarta: Agung Offset

Andrianus. Sri Iswidayati. Triyanto. Patung Pantak Dayak Kanayatn Kajian Fungsi dan Perubahan Sosial Budaya. UNNES. Catharsis. Volume 5 Nomor 2. 20 Desember 2016

Arimbawa, I Made Gede. 2011. "Basis Perkembangan Pada Produk Keramik Pada Era Pasar Global". Denpasar: Jurnal Mudra Volume 26 Nomor 2. Juli 2011.

Damayanti, Risca. Triyanto. Muh Ibnan Syahrif. 2016. Masjid Jami' Piti Muhammad Cheng Hoo Purbalingga: Refleksi Akulturasi Budaya Pada Masyarakat Purbalingga. UNNES. Catharsis. Volume 5 Nomor 2. 20 Desember 2016

Dodo. Sri Iswidayati. Tjeptjep Rohendi Rohidi. 2016. Fungsi dan Makna Bide Dalam Kehidupan Masyarakat Dayak di Kabupaten Landak Kalimantan Barat. UNNES. Catharsis. Volume 5 Nomor 2. 20 Desember 2016

Iskandar, Dadan. 2004. Identitas Budaya Dalam Komunikasi Antar Budaya:Kasus Etnik Madura dan Etnik Dayak. Jurnal Masyarakat dan Budaya. Volume 6 Nomor 2, 2014.

Koentjaraningrat. 1986. Pengantar Ilmu Antropologi, Jakarta: Aksara Baru

Laksana, Km Prayudi Indra. I Ketut Sudita. Jajang Surjana. 2013. Seni krerajinan Batu Apung di Desa Bulian Kecamatan Kubu Tambahan Kabupaten Buleleng. Jurnal e-Jurnal Universitas Pendidikan Ganesa. Volume 10. Tahun 2013.

Mulyana, Deddy. 2010. Ilmu Komunikasi. Bandung. Rosda

Murni, Endri Sintiana. Tjeptjep Rohendi Rohidi. Muh Ibnan Syahrif. 2016. "Topeng Seni Barongan di Kendayakan Tegal:Ekspresi Simbolik Budaya Masyarakat Pesisiran". UNNES. Catharsis. Volume 5 Nomor 2. 20 Desember 2016

Ocvirk. O. 1992. Art Fundamentals: Theory and Partice. Boston: Library of Congress Cataloging in Publiscation Data.

Pawistana. I Kadek, dkk. 2014. "Kerajinan Perak di Desa Bakung, Kecamatan Sukasada, Kabupaten Buleleng". e-Journal Universitas Pendidikan Ganesha Jurusan Pendidikan Seni Rupa (Volume X Tahun 2014).

Putra. R Masri Sareb. 2013. "Berladang dan Kearifan Lokal Manusia Dayak". Jurnal Humaniora Volume 1.Nomor 2. September 2013.

Rahmawati, S. 2011. Kaolin Dalam Industri. Bandung: ITB

Regar, Philep M. Evelin Kawung. Joanne P.M Tangkudung. 2014. Pola Komunikasi Antar Budaya dan Identitas Etnik Sangihe-Talau-d-Sitaro (Studi Pada Masyarakat Etnik Sanger-Tahuna-Sitaro Pada Kota Manado). Jurnal Acta Diurna. Volume 3. Nomor 4. Tahun 2014.

Rohidi, Tjeptjep Rohendi. 2011. Metodologi Penelitian Seni. Semarang: Cipta Prima Nusantara.

_______________________. 2014. Pengembangan Media Pembelajaran Seni Budaya Berbasis Kearifan Lokal (Wayang Sebagai Sumber Gagasan). Jurnal Imajinasi. Vol 8 Nomor 1. Januari 2014

Suryani, Wahidah. 2013. "Komunikasi Antar Budaya: Berbagai Budaya Berbagai Makna". Jurnal Farabi Vol 10 no 1 Juni 2013.

Syuhendri. 2008. "Tradisi sebagai wadak ketahanan budaya: sebuah kritik kapitalisme terhadap budaya pasar". Resital vol 9 no 1 juni 2008:10-18.

Triyanto. 2014. "Pendidikan Seni Berbasis Budaya". Jurnal Imajinasi. Volume 8 Nomor 1. Januari 2014

_______. 2015. "Perkeramikan Mayong Lor Jepara: Hasil Enkulturasi Dalam Komunitas Perajin. Jurnal Imajinasi. Volume IX, Nomor 1. Januari 2015

_______. 2016. Paradikma Humanistik dalam Pendidikan Seni. Jurnal Imajinasi. Volume 10, Nomor 1. Januari 2016

Wastap. Jaeni B. 2010. "Dari Filsafat Keindahan Menuju Komunikasi Seni Pertunjukan". Jurnal Acta Diurna. Volume 6 No 1, 2010

Wasudewa, Gede, dkk. 2014. "Kerajinan Sandal Berbahan Dasar Daun Lontar di Perusahaan Adi Karya Desa Buna, Kecamatan Blahbatuh Kabupaten Gianyar". e-Journal Universitas Pendidikan Ganesha Jurusan Pendidikan Seni Rupa (Volume X Tahun 2014 hal:2).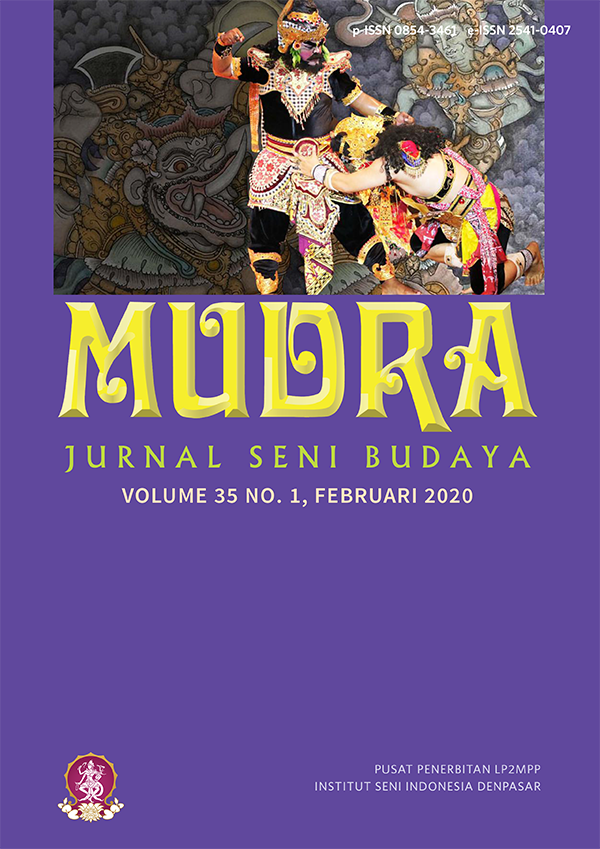 How to Cite
Pranoto, I., Siahaan, V., Triyanto, T., & Rohidi, T. (2020). The Ceramics of Singkawang: Dayak Kanayatn's Cultural Perceptions in Kalimantan Barat. Mudra Jurnal Seni Budaya, 35(1), 103-111. https://doi.org/10.31091/mudra.v35i1.1006
Copyright (c) 2020 Author(s)
This work is licensed under a Creative Commons Attribution-NonCommercial 4.0 International License.
Copyright on any open access article in a journal published by Mudra Jurnal Seni Budaya is retained by the author(s).

The Creative Commons Attribution License 4.0 formalizes these and other terms and conditions of publishing articles.