The Study of Lisung-Halu as the Personification of Women in Mythical World In World View of Agrarian Sundanese
Keywords:
woman, mythical world, agrarian sundanese, lisung-halu
Abstract
Lisung paired with halu is one of the traditional Sundanese farming tools that has a practical function as a pestle/grain pounder into rice. From the perspective of the world view of Sundanese, lisung-halu is a cultural product that is born from the mythical logic of Sundanese. It is the manifestation of the values, norms, characteristics, desires and beliefs of agrarian Sundanese. It is the personification of male and female in world's top (mythical world). Sundanese are oriented towards awareness of their origins. Men are considered stronger than women. But in the context of lisung-alu, the role becomes reversed. This article is descriptive qualitative by using the theory of psycho-analysis from Carl Gustav Jung to study the physical of lisung-halu (awareness output) as the personification of women in the mythical world (unconscious output) within the framework of the world view of agrarian Sundanese. The approach which is taken in this article is the cultural approach because this article is an attempt to understand the facts that refer to something. This writing is in order to generate insight and knowledge about the values of life and beliefs of the agrarian Sundanese which is contained in lisung-halu through the personification of women in mythical world.
References
Darpan (2013), Kompendium Istilah Sistem Pertanian Tradisional Sunda/Compendium The terms of Sundanese Traditional Agricultural Systems, Pustaka Jaya. Bandung

Isfiaty, Tiara (2016) "Representasi Kosmologi Dualisme Pada Rumah Adat Sunda Sebagai Nilai Kearifan Tempatan (Kajian Kes : Bumi Adat - Kampung Adat Cikondang – Pangalengan, Bandung)"/"Representation of Dualism Cosmology at Sundanese Indigenous House as Value of Placement Wisdom (Study of Case: Indigenous Earth - Kampung Adat Cikondang - Pangalengan, Bandung)". Prosiding 6th International Conference on Local Knowledge 27th – 28th July 2016 St Giles Wembley, Pulau Pinang, Malaysia

Jung, C G (1970) Translated by R F C Hull. Four Archetypes Mother Rebirth Spirit Trickster. Princeton, Uniersity Press.

Khairunnisa, Meta (2014), "Kosmologi Ruang Adat Sebagai Identitas Pemukiman Kampung Naga, Tasikmalaya - Jawa Barat"/ "Cosmology of Indigenous Space as the Identity of Kampung Naga Settlement, Tasikmalaya - West Java" diunduh tanggal 5 Agustus 2017 dari http://ejournal.undip.ac.id/index.php/teknik/ volume 35 (1)

Mufrihah, Dwi Zahrotul (Mei 2018), "Fungsi Dan Makna Simbolik Kesenian Jaranan Jur Ngasinan Desa Sukorejo Kecamatan Sutojayan Kabupaten Blitar" MUDRA Jurnal Seni Budaya diunduh tanggal 20 Januari 2020 dari https://jurnal.isi-dps.ac.id/index.php/mudra/article/view/337/206 / volume 33, Nomor 2

Sumardjo, Jakob (2003), Simbol-Simbol Artefak Budaya SUnda Tafsir-Tafsir Pantun Sunda/The Symbols of Sundanese Cultural Artifacts The Commentation of Sundanese Poem, Kelir, Bandung

Soeganda, Prawira (198), Upacara Adat Di Pasundan/Traditional Ceremony In Pasundan. Sumur Bandung, Bandung

Sally Bradshaw and Lance Storm (Sep 2013), "Archetypes, symbols and the apprehension of meaning" International Journal of Jungian Studies diunduh tanggal 20 Januari 2020 dari https://www.tandfonline.com/doi/full/10.1080/19409052.2012.685662?src=recsys /volume 3 /2013/issue 2

Warnaen, Suwarsih et al. (1987), Pandangan Hidup Orang Sunda Seperti Tercermin Dalam Tradisi Lisan Dan Sastra Sunda/The Sundanese Life View As Reflected In Oral Tradition And Sundanese Literature. Bandung: Ministry of Education and Culture, Directorate General of Culture, Research and Study Section of Sundanese Culture.

Wessing, Robert (1974), "Cosmology And Social Behaviour In West Javanese Settlement" Thesis for degree of Doctor Philosophy In Antrophology of the University of Illinois at Urbana-Champaign.

Qodariah, Lelly dan Laely Armiyati (May 2013).."Nilai-Nilai Kearifan Lokal Masyarakat Adat Kampung Naga sebagai Alternatif Sumber Belajar"/"The Local Wisdom Values of Indigenous People at Kampung Naga as an Alternative to Learning Resources". SOCIA Journal of Social Sciences May 2013, Vol. 10, No. 1 page 10 – 20, 2013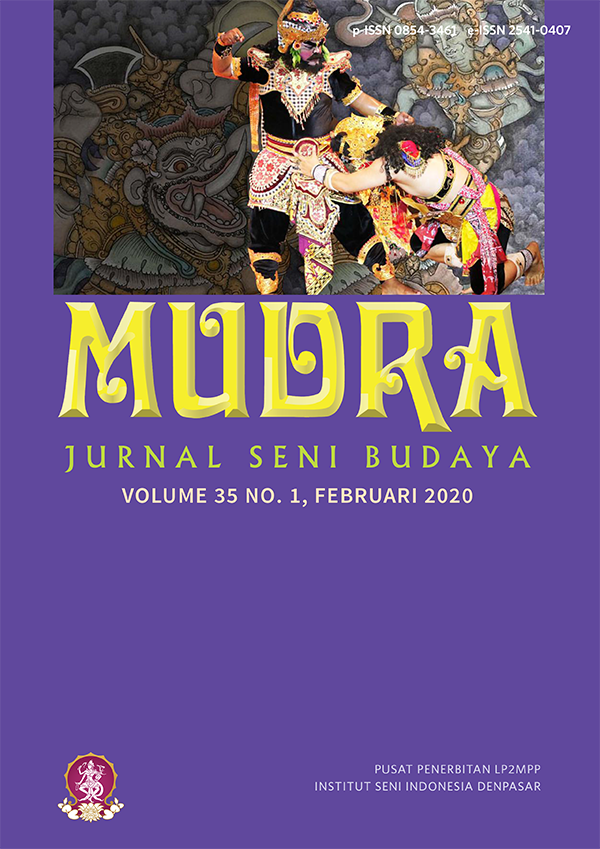 Downloads
How to Cite
Isfiaty, T., & Santosa, I. (2020). The Study of Lisung-Halu as the Personification of Women in Mythical World In World View of Agrarian Sundanese. Mudra Jurnal Seni Budaya, 35(1), 48–55. https://doi.org/10.31091/mudra.v35i1.997
License
Copyright on any open access article in a journal published by Mudra Jurnal Seni Budaya is retained by the author(s).

The Creative Commons Attribution License 4.0 formalizes these and other terms and conditions of publishing articles.