Karya-Karya Seni Rupa Kontemporer Indonesia Berbasis Media Kertas: Bentuk Dan Wacana
Keywords:
seni rupa berbasis kertas, media seni, seni rupa kontemporer indonesia
Abstract
Penelitian ini menelaah karya-karya  23 seniman kontemporer Indonesia dalam memanfaatkan media kertas. Karya-karya berbasis media kertas dalam medan seni rupa Indonesia sejak era tahun 2000-an menunjukkan perkembangan yang semakin kompleks di tengah apresiasinya yang masih dipandang lebih rendah dari pada seni lukis. Permasalahan utama pada penelitian ini adalah mengkaji faktor-faktor apa saja yang menjadi indikator perkembangan seni rupa berbasis media kertas dewasa ini. Penelitian ini menggunakan pendekatan morfologi seni dengan mengurai unsur-unsur bentuk dan maknanya melalui struktur media seni. Penelitian ini merangkum diversifikasi bentuk penggunaan media kertas dalam seni rupa  kontemporer Indonesia dan menunjukkan perkembangan wacana dalam seni rupa Indonesia; yang pertama adalah aspek teknologi bahan dan ketersediaan bahan kertas berkualitas, yang kedua adalah mediasi nilai-nilai media berbasis kertas, yang ketiga adalah pelestarian dan konservasi dan keempat adalah manajemen dan distribusi.
Downloads
Download data is not yet available.
References
Davies, D. ( 2003): Medium in Art, dalam Levinson, J (ed.), The Oxford Handbook of Aesthetics, Oxford University Press, New York, 181 – 191.

Dexter, Emma, (2015) . Vitamin D : New Perspective in Drawing, Phaidon Press, 008-009.

Kusmara, A. R. (1999): Seni Instalasi dalam Seni Rupa Kontemporer Indonesia, Tesis Program Magister Seni Rupa, Institut Teknologi Bandung, 27-38.

Kusmara, A.R. (2011) Media Seni dalam Seni Rupa Kontemporer Indonesia, hal.36.

Supangkat, J. (1993): Seni Rupa Era 80. Katalog Biennale Seni Rupa Jakarta IX , hal 13.

Bernstein, Emma Bee, Medium Specificity, Theories of Media, The University Of Chicago. http://chicagoschoolmediatheory.net/glossary2004/specificity.htm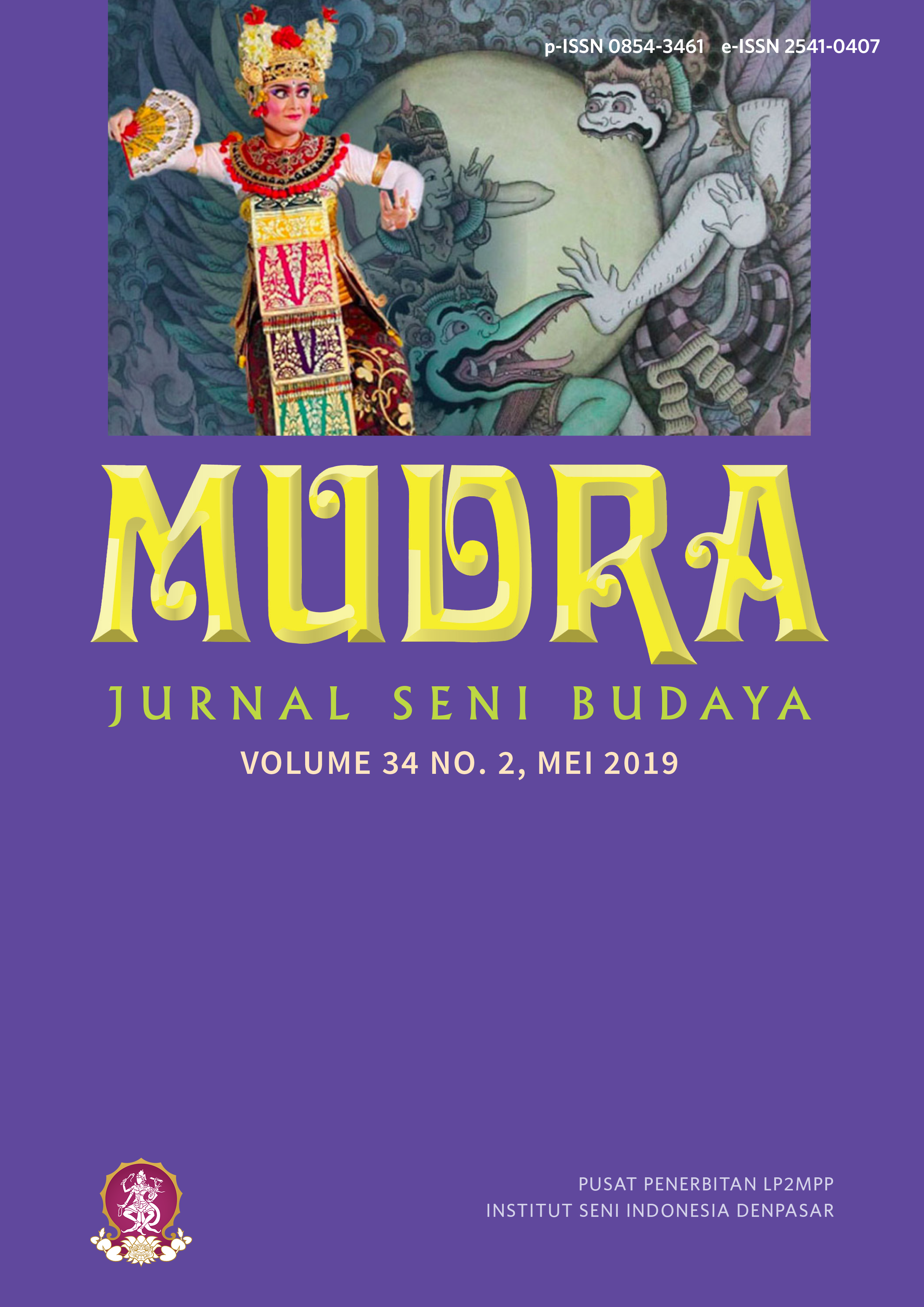 Downloads
How to Cite
Rikrik Kusmara, A. (2019). Karya-Karya Seni Rupa Kontemporer Indonesia Berbasis Media Kertas: Bentuk Dan Wacana. Mudra Jurnal Seni Budaya, 34(2), 269–274. https://doi.org/10.31091/mudra.v34i2.710
License
Copyright on any open access article in a journal published by Mudra Jurnal Seni Budaya is retained by the author(s).

The Creative Commons Attribution License 4.0 formalizes these and other terms and conditions of publishing articles.