Revivalisme Kebudayaan Jawa Mangkunegara VIII di Era Republik
Adi Putra Surya Wardhana

Universitas Sebelas Maret

http://orcid.org/0000-0002-9593-5102

Titis Srimuda Pitana

Program Studi Arsitektur, Fakultas Teknik, Universitas Sebelas Maret Surakarta

Susanto -

Program Studi Ilmu Sejarah, Fakultas Ilmu Budaya, Universitas Sebelas Maret Surakarta
Abstract
Tulisan ini bertujuan untuk membedah relasi kuasa-pengetahuan di balik diskursus revivalisme kebudayaan Jawa Mangkunegara VIII. Mangkunegaran adalah sebuah istana yang pernah menjadi salah satu pusat pemerintahan Jawa pada masa kolonial. Mangkunegaran dipimpin oleh seorang Mangkunegara. Pasca kemerdekaan, Mangkunegaran tidak lebih dari sebuah bangunan yang menyimpan kisah-kisah kejayaan para leluhur. Mangkunegara VIII adalah pemimpin Mangkunegaraan pada saat itu. Ia harus menghadapi berbagai macam tekanan sosial, politik, dan ekonomi. Ia kehilangan kedudukan sebagai kepala pemerintahan Mangkunegaran. Oleh sebab itu, ia membutuhkan sesuatu untuk memulihkan kehormatannya, yaitu kebudayaan Jawa. Ada tiga pokok bahasan yang dikaji oleh tulisan ini. (1) Bagaimana bentuk wacana revivalisme kebudayaan Jawa Mangkunegara VIII pada era Republik? (2) Bagaimana fungsi wacana revivalisme kebudayaan Jawa Mangkunegara VIII? (3) Bagaimana makna wacana revivalisme kebudayaan Jawa Mangkunegara VIII? Wacana revivalisme kebudayaan Jawa Mangkunegara VIII berbentuk klaim bahwa ia adalah pengayom kebudayaan Jawa. Mangkunegaran merupakan pusat pelestarian kebudayaan Jawa. Mangkunegaran mempertunjukkan kesenian-kesenian khasnya kepada khalayak umum, para pejabat, dan tamu-tamu asing. Mangkunegaran menjadi pusat untuk menggali kesenian-kesenian khasnya yang pernah mati suri. Fungsi dari wacana ini adalah untuk memperoleh kehormatan dari abdi dalem, masyarakat, dan petinggi republik dalam bidang kebudayaan. Makna dari wacana ini bagi mereka yang terhegemoni adalah anggapan bahwa Mangkunegaran menyimpan harta dan warisan budaya yang adiluhung dari para leluhur.
References
Al-Azmeh, A. (1991). Islamist Revivalism and Western Ideologies. History Workshop, 32, 44-53. Diakses dari http://www.jstor.org/stable/4289100
Anonim. (1982). Beksan Anglir Mendhung Nyarengi Pengetan Wiyosandalem jangkep yuswa 64 Tahun. Koleksi Reksopustaka Mangkunegaran
Armstrong, P. (2015). The discourse of Michel Foucault: A sociological encounter. Critical Perspectives on Accounting, 27, 29–42. doi:http://dx.doi.org/10.1016/j.cpa.2013.10.009
Barker, C., & Galasiński, D. (2001). Cultural Studies and Discourse Analysis: A Dialogue on Language and Identity. London, Thousand Oaks, & New Delhi: SAGE Publications.
Basuki, A. R. (2010). Peranan Komisi Dana Milik Mangkunegaran dalam Proses Nasionalisasi Aset-aset Mangkunegaran Tahun 1946-1952. Surakarta: Skripsi, Ilmu Sejarah, FSSR, Universitas Sebelas Maret.
Berita Buana (September 5, 1987).
Berita Nasional (September 5, 1987).
Curtis, H. D. (2011). A Sane Gospel: Radical Evangelicals, Psychology, and Pentecostal Revival in the Early Twentieth Century. Religion and American Culture: A Journal of Interpretation, 21(2), 195-226. doi:10.1525/rac.2011.21.2.195
Davidson, J. S., & Henley, D. (2007). The Revival of Tradition in Indonesian Politics The deployment of Adat from Colonialism to Indigenism. Oxon, New York: Routledge.
Evers, H. D., & Siddique, S. (1993, Februari). Religious Revivalism in Southeast Asia: An Introduction. 8(1), 1-10. Diakses dari http://www.jstor.org/stable/41035725
Fakih, F. (2014). Akar-akar Kanan daripada Nasionalisme Indonesia: Nasionalisme Jawa dalam Konteks Kesejarahannya. Lembaran Sejarah, 11(1).
Gramsci, A. (1992). Selections From the Prison Notebooks, ed. Q Hoare dan G. Nowell-Smith. New York: INTERNATIONAL PUBLISHERS.
Greeley, A. (1994, September). A Religious Revival in Russia? Journal for the Scientific Study of Religion, 33(3), 253-272. Diakses dari http://www.jstor.org/stable/1386689
Haryono, S. (2012, Januari - Maret). Implementasi Konsep Langendriya Mandraswara terhadap Seniman Muda. Jurnal Seni & Budaya Panggung, 22 (1), 94 - 106.
Jaya Baya. (1982, Januari 24). Nglacak Baline Anglir Mendhung Sambernyawan. Jaya Baya.
Kartodirdjo, S. (1982). Revolution in Surakarta 1945-50: A Case Study of City and Village in the Indonesian Revolution. Canberra: Thesis of The Australian National University.
Kurris, R. (2009). Purbayan di Tengah Rakyat dan Ningrat. Surakarta: ARAYA.
Magnis-Suseno, F. (1984). Etika Jawa: Sebuah Analisa Falsafi tentang Kebijaksanaan Hidup Jawa. Jakarta: PT. Gramedia.
Mangkunegaran. (1984). Pengetan 40 Tahun Jumenengdhalem S.I.J. Mangkoenagoro VIII Hing Surakarta Surya kaping 19 Juli 1984 ing Pandhapi Ageng Mangkunegaran. Koleksi Rekso Pustaka Mangkunegaran
Maxwell, D. (2018, April ). Continuity and Change in the Luba Christian Movement, Katanga, Belgian Congo, c. 1915-50. Journal of Ecclesiastical History, 69(2), 326-344. doi:10.1017/S0022046917000720
McGregor, J. (2012). Rethinking detention and deportability: Removal centres as spaces of religious revival. Political Geography, 31, 236-246. doi:10.1016/j.polgeo.2012.03.003
Meyer. (2011). Falling for the Lord Shame, Revivalism, and the Origins of the Second Great Awakening. Early American Studies: An Interdisciplinary Journal, 9(1), 142-166. doi:10.1353/eam.2011.0002
Mode, P. G. (1921, Juli). Revivalism as a Phase of Frontier Life. The Journal of Religion, 1(4), 337-354. Diakses dari http://www.jstor.org/stable/1195154
Mudzakkir, A. (2011). Revivalisme Masyarakat Adat dalam Politik Lokal di Indonesia Pasca-Soeharto: Studi Kasus Komunitas Kampung Naga, Tasikmalaya, Jawa Barat. Volume 13 No. 1, 167-184.
Müller, T., & Neundorf, A. (2012, Desember ). The Role of the State in the Repression and Revival of Religiosity in Central Eastern Europe. Social Forces, 91(2), 559–582. doi:10.1093/sf/sos142
Northmore-Ball, K., & Evans, G. (2016). Secularization versus religious revival in Eastern Europe: Church institutional resilience, state repression and divergent paths. Social Science Research, 57, 31-48. doi:http://dx.doi.org/10.1016/j.ssresearch.2015.11.001
Nugraha, I. P. (2011). Teosofi, Nasionalisme dan Elite Modern Indonesia. Jakarta: Komunitas Bambu.
Panikkar, K. N. (2003, Februari). Colonialism, Culture and Revivalism. Social Scientist, 31(1/2), 3-16. Diakses dari http://www.jstor.org/stable/3518287
Puguh, D. R. (2015). "Mengagungkan Kembali Seni Pertunjukan Tradisi Keraton: Politik Kebudayaan Jawa Surakarta, 1950-an-1990-an". Disertasi: Program Pasca Sarjana Fakultas Ilmu Budaya Universitas Gadjah Mada.
Ratna, N. K. (2010). Metodologi Penelitian Kajian Budaya dan Ilmu Sosial Humaniora Pada Umumnya . Yogyakarta: PUSTAKA PELAJAR.
Ritchie, D. (2014, October). William McIlwaine and the 1859 Revival in Ulster: A Study of Anglican and Evangelical Identities. Journal of Ecclesiastical History, 65(4), 803-826. doi:10.1017/S002046913000602
Siburian, E. P. (2011). Perjalanan Hidup dan Upaya Membangkitkan Kembali Seni Opera Batak Tilhang Serindo.
Suara Karya, September 4, 1997
Surabaya Post (September 4, 1987).
Surat Panitia Konggres Nasional Ke-I Lekra kepada Sri Paduka Mangkunegoro ke VIII. (1958). Koleksi Reksa Pustaka Mangkunegaran.
Wasino. (2014). Modernisasi di Jantung Budaya Jawa: Mangkunegaran 1896-1944. Jakarta: Penerbit Buku Kompas.
Weiss, G., & Wodak, R. (2003). Critical discourse analysis: theory and interdisciplinarity. Hampshire and New York: PALGRAVE MACMILLAN.
Widyastutieningrum, S. R. (2006). Langendriyan Mangkunegaran: Pembentukan dan Perkembangan Bentuk Penyajiannya. Surakarta: ISI Press.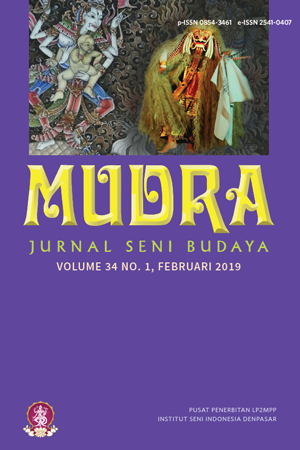 How to Cite
Wardhana, A., Pitana, T., & -, S. (2019). Revivalisme Kebudayaan Jawa Mangkunegara VIII di Era Republik. Mudra Jurnal Seni Budaya, 34(1), 105-115. https://doi.org/10.31091/mudra.v34i1.568
Copyright (c) 2019 Mudra Jurnal Seni Budaya
This work is licensed under a Creative Commons Attribution-NonCommercial 4.0 International License.
Copyright on any open access article in a journal published by Mudra Jurnal Seni Budaya is retained by the author(s).

The Creative Commons Attribution License 4.0 formalizes these and other terms and conditions of publishing articles.