Rasayatra: Eksplorasi Estetika Hindu 'Nawarasa' dalam Desain Interior Museum 3D Interactive Trick Art
I Kadek Dwi Noorwatha

Program Studi Desain Interior, FSRD, ISI Denpasar, Jl. Nusa Indah, Denpasar, 80235, Indonesia

I Putu Udiyana Wasista

Program Studi Desain Interior, FSRD, ISI Denpasar, Jl. Nusa Indah, Denpasar, 80235, Indonesia
Abstract
Penelitian bertujuan untuk mengeksplorasi estetika Hindu Nawarasa sebagai bagian dari karakter lokal Bali ke dalam desain interior kekinian di Bali. Estetika Hindu Nawarasa sebagai salah satu bagian dari taksu kesenian Bali, berhubungan juga dengan sembilan jenis situasi emosi (bhava) yang menimbulkan pengalaman estetis seseorang ketika berinteraksi dengan objek seni. Nawarasa terdiri dari  Shringara (cinta), Hasya (lucu), Karuna (belas kasihan), Raudra (marah), Vira (semangat), Bhayanaka (takut), Bibhatsa (jijik/muak), Adbhuta (takjub) dan Shanta (damai). Kesembilan 'rasa' tersebut akan diinterpretasikan ke dalam ruang arsitektural dengan analogi dramaturgikal, direkontekstualisasikan dari teks asli Nawarasa, sebagai kitab seni teater klasik India. Objek kasus yang dipilih adalah Museum 3D Interactive Trick Art yang akan dieksplorasi interior ruang utamanya menjadi 9 yang merupakan penafsiran secara visual dari estetika Hindu Nawarasa.
References
Attoe, WO dalam Snyder, JC., dan Catanese, AJ, 1979, Introduction of Architecture, New York: McGraw-Hill
Beitmen, LR., 2014, Neuroscience and Hindu Aesthetics: A Critical Analysis of V.S. Ramachandran's "Science of Art", Florida International University (FIU) Electronic Theses and Dissertations, 1198
Chakrabarti, Vibhuti, 1998, Indian Architectural Theory: Contemporary Uses of Vastu Vidya, Surrey: Curzon Press
Elgood, H, 2000, Hinduism and The Religious Arts, London: Cassell
Gosh, Piyali dan Dean, Marnie, 2015, Drawing, Ego, Self: The Practice of 'Rasa Rekha' in the Work of Indian Contemporary Artist Piyali Gosh, Griffith University Queensland College of Art
Leinonen, Teemu dan Durall, Eva, 2014, Design Thinking and Collaborative Learning, Comunicar, n. 42, v. XXI, 2014, Media Education Research Journal;
Mayaram, S, 2014, Philosophy as Samvada and Svaraj: Dialogical Meditations on Daya Krishna and Ramchandra Gandhi, Sage Publishing
Maqbul, AS. (1986), "Hind: The Geography of India according to the Medieaeval Muslim Geographers", in B. Lewis; V. L. Ménage; Ch. Pellat; J. Schacht, The Encyclopedia of Islam, Volume III (H–IRAM)(Second ed.), Brill
Noorwatha, I Kadek Dwi, 2018, Pengantar Konsep Desain Interior, Denpasar: Pusat Penerbitan LP2MPP ISI Denpasar
Noorwatha, I Kadek Dwi. Rekontekstualisasi Estetika Hindu 'Rasa' Dalam Desain Arsitektural. Mudra Jurnal Seni Budaya, [S.l.], v. 33, n. 2, p. 200-208, may 2018. ISSN 2541-0407. Available at: <http://jurnal.isi-dps.ac.id/index.php/mudra/article/view/351>. Date accessed: 13 sep. 2018. doi:http://dx.doi.org/10.31091/mudra.v33i2.351.
Pemda Bali 2005, Peraturan Pemerintah Provinsi Bali Nomor 5 Tahun 2005 tentang Persyaratan Arsitektur Bangunan Gedung, Denpasar: Biro Hukum dan HAM Provinsi Bali
Shetty, D dan Bhoosan, S, 2007, Exploring Indian Aesthetic Theory for Developing New Architectural Forms, published in Proceedings of International Conference 'Sources of Architectural Forms: Theory and Practice' From March 10th-13th 2007 by Department of Architecture, College of Petroleum and Engineering, Kuwait University, Kuwait.
Simmond, John Ormsbee dan Starke, Barry W., 2006, Landscape Architecture: A Manual of Environmental Planning and Design, New York: McGraw-Hill
Verma, A dan Gupta, I, 2015, Indian Rasa in the Motifs of Saharanpur Woodcraft, American International Journal of Research in Humanities, Arts and Social Sciences, AIJRHASS 15-105, 20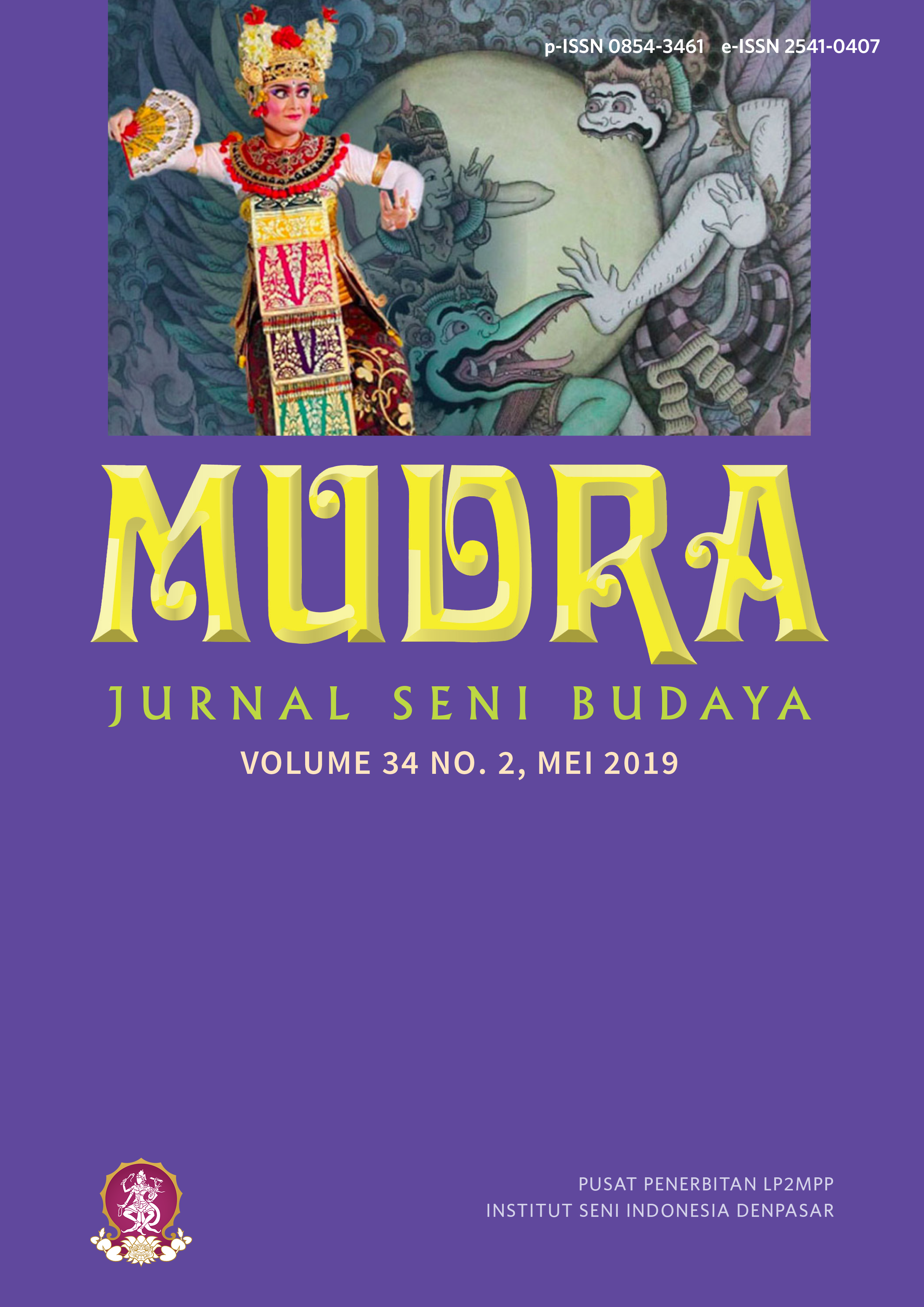 How to Cite
Noorwatha, I. K., & Wasista, I. P. (2019). Rasayatra: Eksplorasi Estetika Hindu 'Nawarasa' dalam Desain Interior Museum 3D Interactive Trick Art. Mudra Jurnal Seni Budaya, 34(2), 147-156. https://doi.org/10.31091/mudra.v34i2.514
Copyright (c) 2019 I Kadek Dwi Noorwatha, I Putu Udiyana Wasista
This work is licensed under a Creative Commons Attribution-NonCommercial 4.0 International License.
Copyright on any open access article in a journal published by Mudra Jurnal Seni Budaya is retained by the author(s).

The Creative Commons Attribution License 4.0 formalizes these and other terms and conditions of publishing articles.