Seni Lukis Sebagai Refleksi Ketidakberdayaan dan Keterpinggiran Cokek
Sarnadi Adam

Doctoral Programme School of Postgraduate Yogyakarta Institute of the Arts Indonesia
Keywords:
Betawi Art tradition, cokek, painting, decorative nostalgic
Abstract
Penelitian ini didorong oleh kerinduan peneliti pada Tari Cokek  sebagai bagian dari lingkungan budaya pada masa silam untuk menjadi inspirasi seni lukis. Setelah dilakukan studi literatur, observasi, wawancara dan pendokumentasian, ditemukan fakta, bahwa masyarakat pendukung Cokek telah semakin menurun, sehingga kesenian ini tidak berdaya untuk mempertahankan eksistensinya, ditandai dengan terpinggirnya Cokek dari pusat Jakarta ke Tangerang. Para pelaku Cokek mengalami dilema atau berada dalam pilihan yang sulit: untuk bertahan, penanggap telah semakin langka, sedangkan untuk beralih profesi mereka tidak memiliki keahlian lain karena kecintaannya pada Cokek. Dilema tersebut, khususnya pada problem ketidakberdayaan dan keterpinggiran Cokek, menjadi sumber inspirasi utama untuk menciptakan 7 (tujuh) lukisan pasca penelitian. Adapun metode penciptaannya meliputi: eksplorasi ide, bentuk, dan teknik. Hasilnya, sebagai temuan penciptaan, adalah seni lukis dekoratif nostalgis, ialah seni lukis bercorak dekoratif yang mengaktualisasikan rasa rindu dan rasa iba pada Cokek sebagai bagian dari budaya Betawi masa silam yang kini semakin menghilang.This research is motivated by the longing of researchers at Cokek Dance as part of the cultural environment in the past to become an inspiration of painting. After the study of literature, observation, interviews and documentation, it was found that Cokek's supporting societies had declined, so that this art tradition was powerless to maintain its existence, marked by the marginalization of Cokek from central Jakarta to Tangerang. Cokek actors are in a dilemma or are in a difficult choice: to survive, the responders have become scarce, while to switch professions they have no other skills because of their love of Cokek. The dilemma, particularly on the powerlessness and marginalization of Cokek, became the main source of inspiration for creating 7 (seven) post-research paintings. The method of creation includes: the exploration of ideas, forms, and techniques. The result, as the invention of creation, is a nostalgic decorative art, is a decorative patterned painting that actualizes the longing and pity of Cokek as part of Betawi culture which is now disappearing.
References
Ali, Matius. 2011. Estetika Pengantar Filsafat Seni. Sanggar Luxor
Bandem, I Made. 2001. Metodologi Penciptaan Seni: Kumpulan Bahan Mata Kuliah. Yogyakarta: Program Pascasarjana ISI Yogyakarta
Campbell, David. 1986. Mengembangkan Kreativitas, saduran A.M. Mangun Hardjana. Yogyakarta: Kanisius
Langer, Suzanne K. 2006. Problematika Seni (terjemahan Fx. Widaryanto). Bandung: Sunan Ambu Press STSI Bandung, 2006
Ratna, Nyoman Kutha. 2007. Estetika Sastra dan Budaya. Yogyakarta: Pustaka Pelajar
Sp., Soedarso. 2006. Trilogi Seni: Penciptaan, Eksistensi, dan Kegunaan Seni. Yogyakarta: Badan Penerbit Institut Seni Indonesia Yogyakarta
SP., Gustami, SP. 2007. Butir-Butir Mutiara Estetika Timur: Ide Dasar Penciptaan Seni Kriya Indonesia. Yogyakarta: Prasista, 2007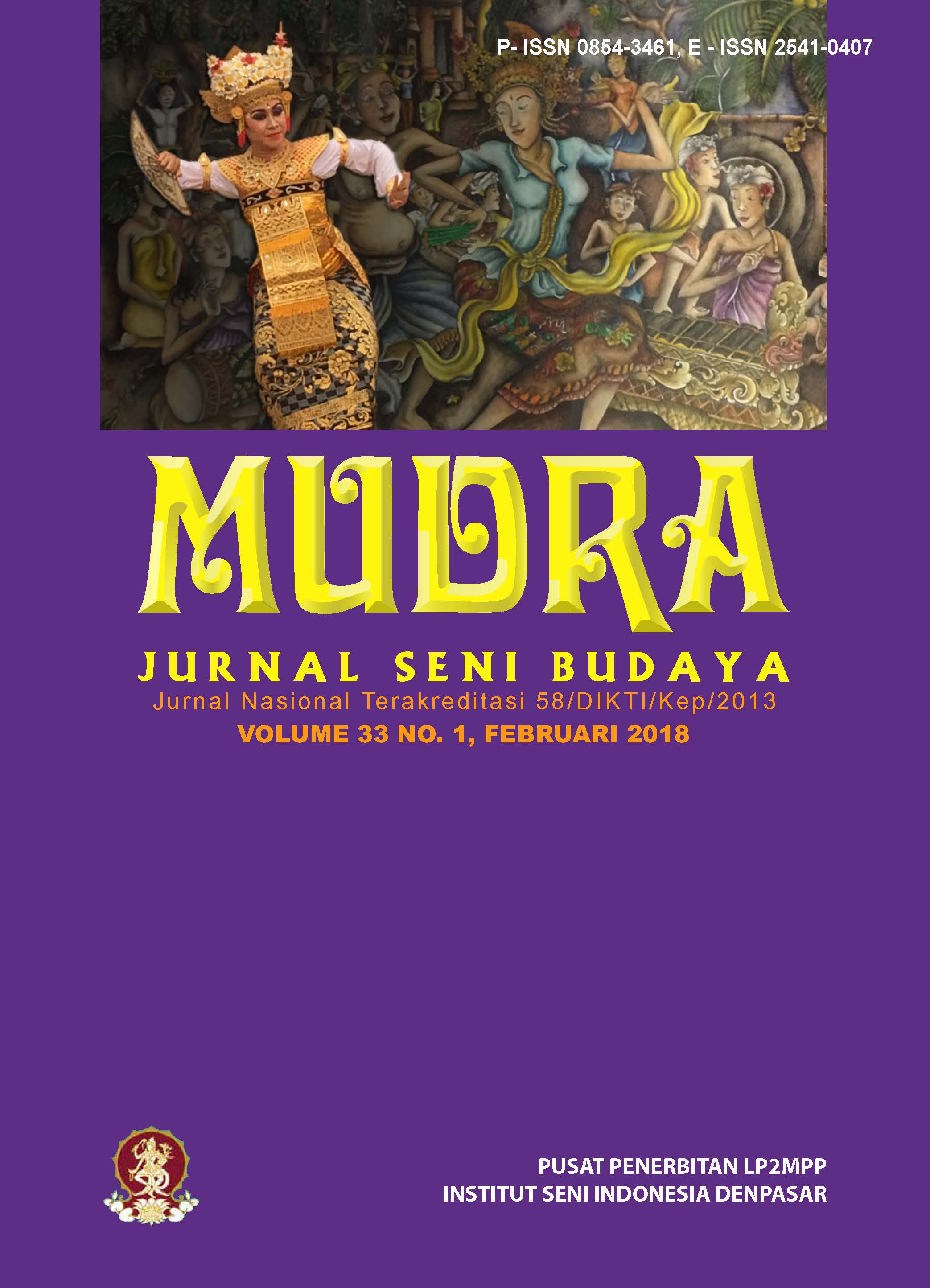 How to Cite
Adam, S. (2018). Seni Lukis Sebagai Refleksi Ketidakberdayaan dan Keterpinggiran Cokek. Mudra Jurnal Seni Budaya, 33(1), 1-8. https://doi.org/10.31091/mudra.v33i1.323
Copyright on any open access article in a journal published by Mudra Jurnal Seni Budaya is retained by the author(s).

The Creative Commons Attribution License 4.0 formalizes these and other terms and conditions of publishing articles.