Anime Sebagai Media Edukasi Digital Mengenai Fungsi Sel Darah Merah (Analisis Visualisasi Karakter AE 3803 Pada Anime Hataraku Saibou)
Keywords:
anime, hataraku saibou, media edukasi
Abstract
Perkembangan teknologi membawa dunia digital makin dekat pada kehidupan manusia sehari-hari. Hal ini membawa perubahan juga dalam proses manusia mencari kesenangan. Berbagai macam hiburan bisa didapat melalui media-media yang sehari-hari digunakan. Tayangan anime sebagai salah satu bentuk hiburan, bukan lagi tontonan yang sulit dicari. Hataraku Saibou, merupakan tayangan anime yang unik karena memberikan nilai edukasi biologi manusia. Di tengah banyaknya judul anime, kemunculan Hataraku Saibou bisa jadi mengubah pandangan bahwa anime hanya sekedar tayangan hiburan. Dari sisi studi media, artikel ini hendak membahas bagaimana tayangan ini menampilkan nilai edukasi khususnya mengenai visualisasi fungsi pada sel darah merah tanpa bersifat menggurui. Artikel ini mencoba membahas langkah ke depan dalam proses penanaman edukasi pada khalayak.
References
Baudrillard, J. (2014). Masyarakat Konsumsi. Bantul: Kreasi Wacana Offset.
Blumer, H. (2012). Symbolic Interaction: Perspective and Methode. In G. Ritzer, Teori Sosiologi (pp. 627-628). Yogyakarta: Pustaka Pelajar.
Castells, M. (2006). Network Society. In F. Webster, Theories of Information Society (p. 98). London: Routledge.
Honestdocs Editorial Team. (2019, Februari 22). Fungsi Darah Merah, Putih, Plasma dan Keping Darah. Retrieved from https://www.honestdocs.id/
Ito, M., Okabe, D., & Tsuji, I. (2005). Fandom Unbound. London: Yale University Press.
Kriyantono, R. (2007). Pemberdayaan Konsumen Televisi Melalui Ketrampilan Media-Literacy dan Penegakan Regulasi Penyiaran. Jurnal Penelitian Komunikasi, Media Massa dan Teknologi Informasi.
Lamarre, T. (2009). The Anime Machine. Minneapolis: University of Minnesota Press.
Makino, C. (2009, October 27). Retrieved from Japanese Anime Fans Gain Economic Power: https://www.voanews.com
Napier, S. J. (2004). Why Anime. Japan Spotlight, 20-23.
Nye, J. J. (2004). Soft Power : The Means to Success in World Politics. New York: Public Affairs.
Piliang, Y. A. (2003). Hipersemiotika : Tafsir Cultural Studies Atas Matinya Makna. Bandung: Jalasutra.
Pineda, R. A. (2018, Januari 25). News:Cells at Work! TV Anime Stars Tomoaki Maeno, Kana Hanazawa. Retrieved from https://www.animenewsnetwork.com/
Ritzer, G. (2012). Teori Sosiologi. Jalasutra.
Rose, G. (2007). Visual Methodologies: An Introduction to the Interpreatition of Visual Materials (2n.ed). London: Sage.
Shape shifting red blood cells respond to shear forces. (2018, September 26). Retrieved from Biophysics: https://physicsworld.com/
Shen, A. (2018, Agustus 17). Why new Japanese anime series Cells At Work! is a big hit in China . Retrieved from https://www.scmp.com/
Valdez, N. (2018, Agustus 26). Anime:Scientists Praise 'Cells at Work!' For its Entertaining Accuracy. Retrieved from https://comicbook.com/
Wolf, I. (2020, Januari 20). Cells at Work! Review. Retrieved from https://animeuknews.net/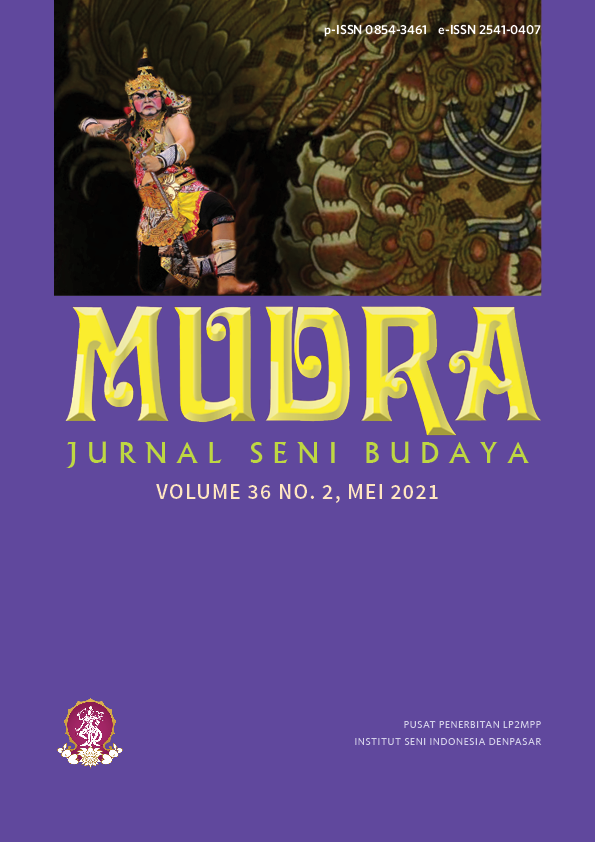 Downloads
How to Cite
Salamoon, D. K. . (2021). Anime Sebagai Media Edukasi Digital Mengenai Fungsi Sel Darah Merah (Analisis Visualisasi Karakter AE 3803 Pada Anime Hataraku Saibou). Mudra Jurnal Seni Budaya, 36(2), 197–203. https://doi.org/10.31091/mudra.v36i2.1468
License
Copyright (c) 2021 Daniel Kurniawan Salamoon
This work is licensed under a Creative Commons Attribution-NonCommercial-ShareAlike 4.0 International License.
Copyright on any open access article in a journal published by Mudra Jurnal Seni Budaya is retained by the author(s).

The Creative Commons Attribution License 4.0 formalizes these and other terms and conditions of publishing articles.