Perhelatan Seni dalam Bingkai Dinamika Zaman Taman Balekambang Surakarta (1921-2020)
Rudy Wicaksono Herlambang

Sebelas Maret University, Surakarta

Rahmanu Widayat

Galih Pranata
Keywords:
Balekambang; Arts; Srimulat; Kethoprak
Abstract
Balekambang Park is one of the many tourist objects that are quite popular in the Solo area. Not only does it present the beauty of the garden, but also keeps a long historical side. This paper seeks to record flashbacks of art events from time to time that have occurred in Taman Balekambang Surakarta. The results showed that Balekambang Park was once busy with a variety of art performances and the enthusiasm of the audience until the 80s before being displaced by the globalization media which made Balekambang Park lose its crowd and began to be abandoned in the 90s. Whereas previously, various art events such as WOP, Kethoprak had triumphed in the 80s. This alarming condition is increasingly felt where Balekambang Park has begun to be viewed with a negative stigma with the establishment of the night world in it and other dark sides such as 'plus-plus' massage and so on. Revitalization efforts were then carried out by the Solo City Government starting from the revitalization by Solo City Leaders Joko Widodo and FX Rudy in 2008. In addition, the establishment of new facilities such as the Open Stage is an effort to preserve Balekambang Park while maintaining the existence of art and cultural events that have been held in the Park since long ago.
References
Afifah, Evie Nur. 2014. Seni Ketoprak di Era Modernisasi (Studi Kasus di Lingkungan Balekambang Kodya Surakarta). Jurnal Skripsi FKIP UNS, pp.3-10
Antono, U. T. B., 2009. Dekorasi dan Dramatika Tata Panggung Teater. Resital. 10(2), pp.94-105
Astuti, Y. P., & Pratiwi, R. Z. B., 2019. Community Relations UPT Taman Balekambang Surakarta dalam Program Pengembangan Kemitraan Masyarakat. Profetik Jurnal Komunikasi. 12(2), pp. 333-353
Chantavong, X., Warto, & Sudardi, B., 2019. Ecotourism Development in Balekambang City Park, Surakarta, Central Java Indonesia. International Journal of Multicultural and Multireligious Understanding. 6(4), pp. 206-213
Comerasamy, H. (2012). Literature based Research Methodology. UK
Hakim, L., Retnaningdyah, C., & Mukhzayadah. 2014. Ecological and Social Evaluation of Coastal Tourism Destination Development: A Case Study of Balekambang, East Java. Journal of Indonesian Tourism and Development Studies. 2(1), pp. 26-32
Hidayat, E.A., & Supriyono, H., (2019). Perancangan Sistem Informasi Berbasis QR Code Untuk Menampilkan Data Koleksi di Taman Balekambang Surakarta. Skripsi. Surakarta: Universitas Muhammadiyah Surakarta
Himawan, T. B., & Pujihartati, S. H., 2019. Eksistensi Ketoprak Balekambang Sebagai Salah Satu Bentuk Pelestarian Budaya Jawa di Kota Surakarta. Journal of Development and Social Change. 2(1), pp.3-12
Imron, A.A.M., Nasucha, Y., & Prayitno, H.J., 2005. Revitalisasi Seni Pertunjukan Tradisi dalam Menunjang Pariwisata di Surakarta. Jurnal Penelitian Humaniora, 6(2), pp.207-220
Iswantara, N., 1997. Ketoprak dan Teater Modern Kita dalam Lephen Purwa Raharja, ed., Ketoprak Orde Baru. Yogyakarta: Yayasan Bentang Budaya
Kam, G., 1984. Wayang Wong in the Court of Yogyakarta: The Enduring Significance of Javanese Dance Drama. Asian Theatre Journal. 4(1), pp. 29-51
Kuncoro, S., 2017. Optimalisasi Pertunjukan Sendratari Ramayana Sebagai Daya Tarik Wisata Taman Balekambang. Skripsi. Surakarta: Universitas Sebelas Maret Surakarta.
Maslakhah, S., & Wijana, I. D. P., 2004. Bahasa Jawa dalam Ketoprak Humor RCTI (Suatu Tinjauan Sosiolinguistik). HUMANIKA. 17(4), pp.577-596
Nurjayanti, W., 2009. Islamic Values And Sustainable Architecture Study On Children Space In Balekambang Park, Solo, Central Java, Indonesia. Proceeding International Workshop on Space & Children 2009, pp. 1-7
Nusantara, B., 1997. Format Garapan dan Problematika Ketoprak, dalam Lephen Purwa Raharja, ed., Ketoprak Orde Baru. Yogyakarta: Yayasan Bentang Budaya
Oesman, F., 2017. Daya Tarik Sendratari Ramayana Sebagai Atraksi Wisata di Taman Balekambang Surakarta. Potongan Katya Ilmiah, pp.20-35
Onwueg, A. J., & Frels, R. (2016). Methodology of the Literature Review. In Seven Steps to a Comprehensive Literature Review; A Multimodal & Cultural Approach. London: Sage Publication Ltd
Padmodarmaya, Pramana, 1983. Tata dan Teknik Pentas. Jakarta : Departemen Pendidikan dan Kebudayaan
Pratomo, A., Soedwiwahjono, & Miladan, N., 2019. Kualitas Taman Kota Sebagai Ruang Publik di Kota Surakarta Berdasarkan Persepsi dan Preferensi Pengguna. Desa-Kota: Jurnal Perencanaan Wilayah, Kota dan Pemukiman. 1(1), pp. 84-95
Rusini, (1994). "Rusman Gathutkaca Sriwedari Sebuah Biografi (1926-1990)", Tesis S-2 Program Studi Pengkajian Seni Pertunjukan Universitas Gadjah Mada
Rustopo (2008). Jawa sejati: otobiografi Go Tik Swan Hardjonagoro. Yogyakarta: Ombak
Rustopo. 2013. Kontribusi Orang-Orang Tionghoa Di Surakarta Dalam Kebudayaan Jawa 1895-1998. Dewa Ruci. 8(2), pp. 212-229
Sani, I., 2017. Sendratari Ramayana dalam Melestarikan Kebudayaan Tradisional (Studi Kasus di Balekambang Kota Surakarta). Jurnal Ilmiah Pendidikan Sosiologi Antropologi, pp.1-14
Sasmita, A.P., & Budhy, A., Tidak diketahui. Tak Mati Karena "Ditanggap Fungsi" (Video Dokumenter tentang Potret Kesenian Ketoprak Di Kabupaten Pati yang Masih Tetap Eksis dan Masih Mampu Menghidupi Para Pemainnya). Jurnal Komunikasi Massa, pp. 1-19
Snyder, H., 2019. Literature review as a research methodology: An overview and guidelines. Journal of Business Research, 104, pp. 333–339
Sutarso, J., 2018. Wayang In Javanese Mythology: Cultural Communication Through Surakarta Wayang Wong Sriwedari (WWS) Community on Social Media. The 2nd International Conference on Technology, Education, and Social Science 2018 (The 2nd ICTESS 2018), pp. 357-362
Widayat, A., 2001. Kethoprak: Seni Pertunjukan dan Seni Sastranya, Media Menuju Konteks Multikultural. Proceding Seminar Nasional Pemberdayaan KBJ III, 2001, pp. 1-11
https://www.researchgate.net/profile/Rendy_Diningrat/publication/311900370_Sejarah_Kelam_Taman_Balekambang_Solo/links/586058a908aebf17d38e7867.pdf, Karya Rendy Diningrat, 2013. dengan judul : Sejarah Kelam Taman Balekambang, Solo (diakses pada 7 April 2020)
https://perpus.jatengprov.go.id/deposit/artikel/wisatajateng/70-tempat-wisata-jateng/kota-surakarta/516-taman-kota-balekambang, dengan judul : Taman Kota Balekambang (diakses pada 22 Agustus 2020)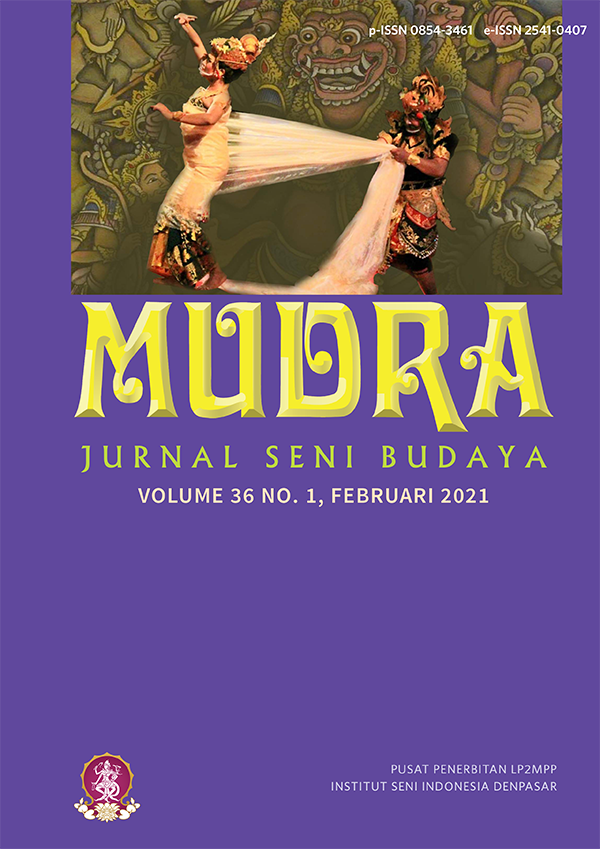 How to Cite
HerlambangR., WidayatR., & PranataG. (2021). Perhelatan Seni dalam Bingkai Dinamika Zaman Taman Balekambang Surakarta (1921-2020). Mudra Jurnal Seni Budaya, 36(1), 55-62. https://doi.org/10.31091/mudra.v36i1.1164
Copyright (c) 2021 Rudy Wicaksono Herlambang, Rahmanu Widayat, Galih Pranata
This work is licensed under a Creative Commons Attribution-NonCommercial 4.0 International License.
Copyright on any open access article in a journal published by Mudra Jurnal Seni Budaya is retained by the author(s).

The Creative Commons Attribution License 4.0 formalizes these and other terms and conditions of publishing articles.