Directing Cymbeline: Leon activated attributes of God for the 38th Bali Arts Festival 2016
Abstract
Applying the theory of Bali Creative Art, this paper looks at the theatre directing elements, concept, and method applied by Leon Rubin when he directed Shakespeare's Cymbeline. Invited by the Head of the Bali Province Cultural Directorate to showcase a cross-cultural theatrical production, Leon selected and integrated twenty-five artists (actors/actresses, costume and lighting designers) from Bali, Indonesia; Malaysia, Mexico, Brazil, China, and England in a new work for the 38th Bali Arts Festival in 2016. Most of the actors were able to stay in Bali for three weeks to rehearse; the piece was also shown in limited seating venues in the villages of Ubud and Abian Semal for three nights in a row from 25 to 27 June 2016. Despite the great challenge for the non-Indonesian actors and director, all were finally able to collaborate under Leon's direction and perform the Indonesian language translation of the original Shakespearian text. Although the local artists informed Leon that the Cymbeline play would be competing with sounds from loud speakers in several nearby performance venues and the stage crew offered the actors microphones—Leon did not allow sound amplification of the actors, musicians, narrator, or the singer. Surprising yet amusing local audiences with several uncommon features, the Cymbeline show was considered to be the best collaborative production among the nearly 350 performances presented during the month-long festival.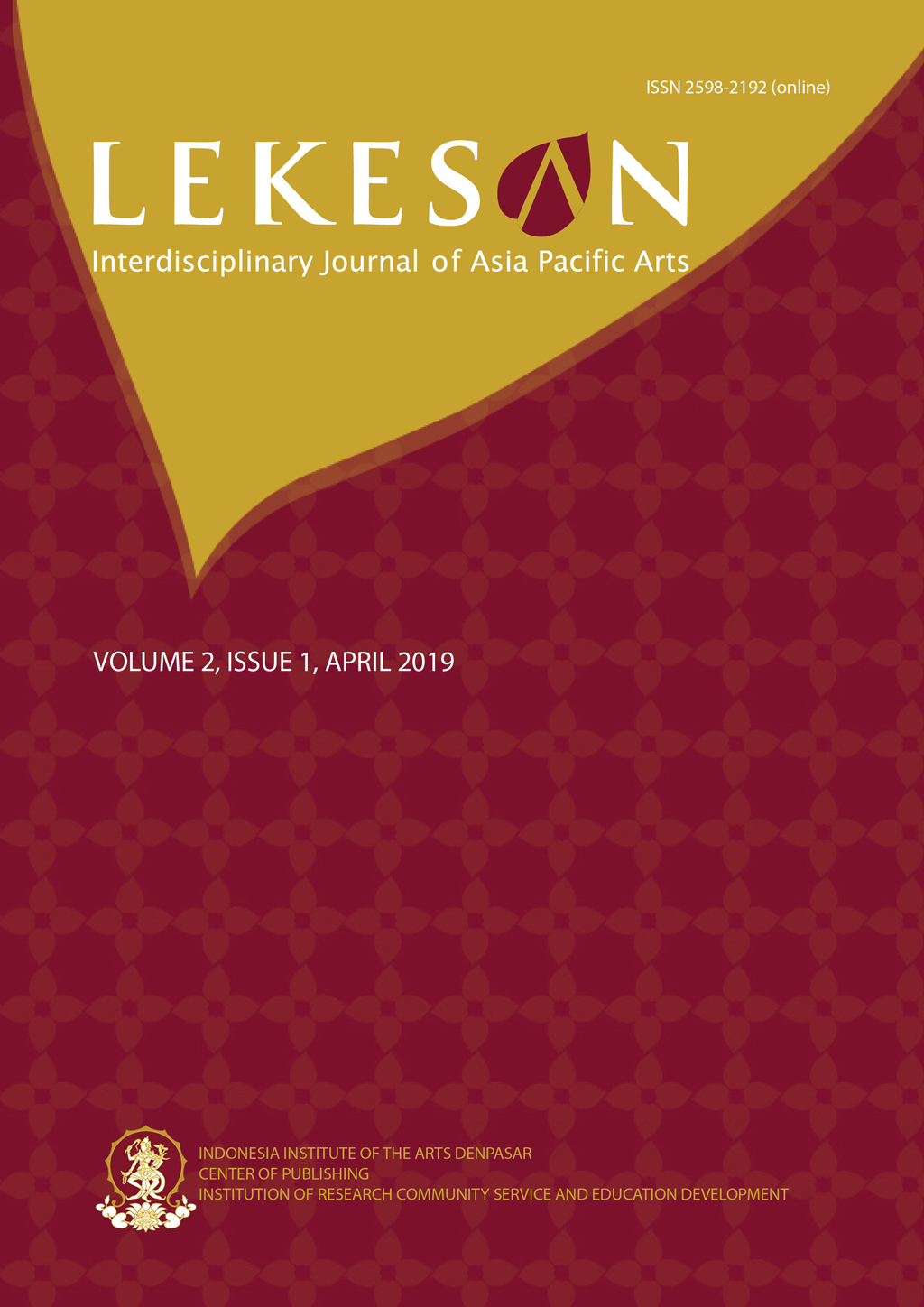 How to Cite
Sedana, I. N. (2019). Directing Cymbeline: Leon activated attributes of God for the 38th Bali Arts Festival 2016. Lekesan: Interdisciplinary Journal of Asia Pacific Arts, 2(1), 12-33. https://doi.org/10.31091/lekesan.v2i1.749
Copyright on any open access article in a journal published by Lekesan is retained by the author(s) without restriction.