Film Dokumenter "Sesuluh" Sebagai Media Pembentuk Karakter Bangsa
Keywords:
film dokumenter, wayang kamasan, karakter bangsa
Abstract
Dewasa ini berbagai macam masalah muncul ke permukaan menghiasi media. Hal ini mencerminkan terjadinya degradasi moral atau kemerosotan karakter. Padahal jika dicermati  nilai-nilai karakter sangat kental termuat dalam nilai-nilai lokalitas kebudayaan yang salah satunya adalah wayang Kamasan. Lukisan wayang Kamasan adalah budaya yang sarat dengan nilai-nilai moralitas. Berkaitan dengan hal ini penulis termotivasi untuk melakukan kajian terhadap sebuah film dokumenter yang berjudul "Sesuluh†yang secara materi film ini mengangkat wayang Kamasan serta nilai-nilai karakter pembentuk bangsa. Mengingat film banyak digandrungi masyarakat luas dan begitu menginspirasi bagi generasi penerus bangsa. Oleh karena itu dalam peneitian ini penulis mengangkat tiga permasalahan, yaitu pertama adalah bagaimanakah konsep film "Sesuluhâ€, kedua bagaimanakah cerita film "Sesuluhâ€, dan ketiga bagaimanakah eksplorasi nilai-nilai karakter yang terdapat dalam lukisan wayang Kamasan. Rancangan penelitian ini adalah deskriptif kualitatif. Metode pengumpulan data menggunakan metode wawancara dan observasi. Film dokumenter "Sesuluh†adalah jenis film dokumenter yang berdurasi 17 menit. Film ini mengambil konsep penggalian dan eksplorasi nilai karakter dalam wayang Kamasan, dengan menghadirkan tiga nara sumber yang berkompeten. Cerita film dibagi menjadi tiga babak, babak pertama membahas peran dan fungsi wayang kamasan, ketiga eksplorasi nilai karakter, dan ketiga berupa konklusi. Film "Sesuluh†ini merupakan sebuah media yang pantas dan patut dijadikan sarana pembentukan karakter bangsa.

Today various problems surfaced adorn the media. This reflects the occurrence of moral degradation or deterioration of character. In fact, if we look at the character values are very thick, contained in the values of cultural locality, one of which is Kamasan wayang. Kamasan puppet paintings are cultures that are full of moral values. In connection with this the writer is motivated to conduct a study of a documentary film entitled "Sesuluh†which in this film materializes Kamasan wayang and the values of the nation's forming characters. Considering the film is much loved by the wider community and so inspiring for the future generation. Therefore, in this study the author raises three problems, namely first is how the concept of the film "Sesuluhâ€, the second how the story of the film "Sesuluhâ€, and the third how to explore the character values contained in Kamasan puppet paintings. The design of this study is descriptive qualitative. Data collection method uses interview and observation methods. The documentary film "Sesuluh†is a type of documentary film that lasts 17 minutes. This film takes the concept of digging and exploring the value of characters in the Kamasan wayang, by presenting three competent resource persons. The film story is divided into three rounds, the first round discusses the roles and functions of kamasan puppet, the third is exploration of character values, and the third is conclusions. This "Sesuluh†film is an appropriate media and should be used as a means of forming the nation's character.

 
References
Ayawaila, Gerson. 2008. Dokumenter : Dari Ide Hinga Produksi. Jakarta : IKJ
Bazin, Andre. 2005. What is Cinema?.California : University of California Press
Katz, Steven. 1991. Film Directing Shot by Shot Visualizing From Concept to Scree. USA : Michael Wiese Production.
Mudana, Wayan. 2015. "Transportasi Seni Lukis Wayang Kamasan pada Era Postmodern di Klungkung Baliâ€. Denpasar : Universitas Udayana.
Mudana, Wayan. 2017. "Komodifikasi Seni Lukis Wayang Kamasan sebagai Produk Industri Kreatif Penunjang Pariwisataâ€. Mudra : Jurnal Seni Budaya Vol. 31 Nomor 1 Tahun 2017
Nugroho. Fajar. 2007. Cara Pinter Bikin Film. Yogyakarta : Galang Press
Pratista, Himawan. 2008. Memahami Film. Jakarta : Homerian Pusaka
Prihantono. Onny, Dkk. 2009. Strategi Pembuatan Film Dokumenter yang Tepat untuk Mengangkat Tradisi-Tradisi di Balik Reok Ponorogo PM. Jurnal Desain Komunikasi Visual Nirmana : Vol. 11 Nomor 1. Janurai 2009.
Rabiger, Michael. 2006. Develoving Stories Idea. USA : Elsevier.
Setem, Wayan. 2010. Interkultural Seni Lukis Wayang Kamasan. Denpasar.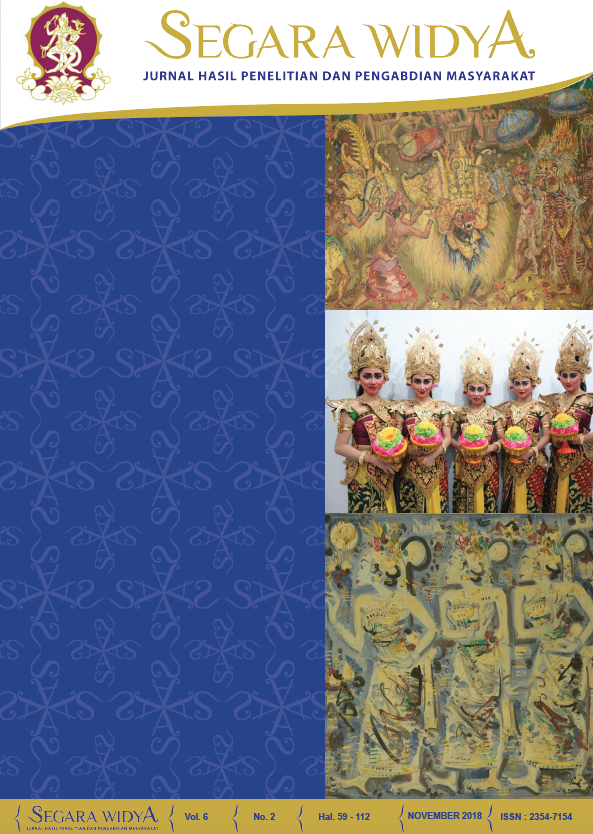 Downloads
How to Cite
Buda, I. K., Payuyasa, I. N., & Deny Chrisna Putra, I. M. (2018). Film Dokumenter "Sesuluh" Sebagai Media Pembentuk Karakter Bangsa. Segara Widya : Jurnal Penelitian Seni, 6(2). https://doi.org/10.31091/sw.v6i2.549
License

This work is licensed under a Creative Commons Attribution-NonCommercial 4.0 International License.