Perlindungan Hukum Terhadap Alat Musik Tradisional Bali
Ni Wayan Masyuni Sujayanthi

Seni Karawitan, Fakultas Seni Pertunjukan, Institut Seni Indonesia Denpasar

Agus Ngurah Arya Putraka

Seni Karawitan, Fakultas Seni Pertunjukan, Institut Seni Indonesia Denpasar
Abstract
Keanekaragaman seni dan budaya di Indonesia menjadi salah satu kekayaan yang dimiliki oleh bangsa ini, begitu halnya di Bali dimana seni dan budaya sudah dikenal sampai kemancanegara. Salah satunya adalah seni karawitan dimana alat musik tradisional Bali sudah banyak terdapat di negara lain dan sudah banyak dipelajari oleh bangsa lain, hal ini menimbulkan kekhawatiran terjadinya pengklaiman oleh negara lain sehingga dipandang perlu melalui penelitian ini yang bertujuan untuk menganalisis keurgensian pemberian perlindungan hukum terhadap alat musik tradisional Bali. Metode penelitian yang digunakan adalah penelitian kualitatif dimana sumber data berupa data primer dan data sekunder. Pengumpulan data dilakukan dengan metode kuisioner, wawancara, dan studi pustaka kemudian diolah dan disajikan secara deskriptif dengan menarik kesimpulan. Hasil dari penelitian ini memberikan gambaran penting atau tidaknya pemberian perlindungan hukum terhadap alat musik tradisional Bali menurut para pendapat masyarakat yang berkecimpung di dunia seni karawitan Bali.The diversity of arts and cultures in Indonesia become one of the wealth owned by this nation, so as in Bali where art and culture have been well-known all over the world. One of them is karawitan art where the traditional Balinese musical instruments have been widely available in other countries and have been studied by other nations, it evokes the occurrence of claims by other countries, therefore it is necessary that through this research which aims at analyzing the urgency of providing legal protection to Balinese traditional musical instruments. The research method applied is qualitative research where the data sources are in the form of primary data and secondary data. The data collection was conducted by questionnaire method, interview, and literature study then processed and presented descriptively by drawing conclusions. The results of this study provide description on whether or not the provision of legal protection to Balinese traditional musical instruments according to the opinions of the people who are engaged in the art world of Balinese karawitan. 
References
Ariawan, Wayan, 2014, Karawitan Bali, Institut Seni Indonesia Denpasar.
Badan Penelitian dan Pengembangan HAM Kementerian Hukum dan HAM RI, 2013, Perlindungan Kekayaan Intelektual Atas Pengetahuan Tradisional dan Ekspresi Budaya Tradisional Masyarakat Adat, Alumni, Bandung.
Merriam,Alan.P, 1964, The Antropology Of Mucis, Northwestern University Press, Chicago.
Rasjidi, Lili dan I.B Wyasa Putra, 1993, Hukum Sebagai Suatu Sistem, Remaja Rusdakarya, Bandung.
Raharjo, Satjipto, 2000, Ilmu Hukum, PT. Citra Aditya Bakti, Bandung.
Sedyawati, Edi, 1992, Budaya Indonesia ; Kajian Arkeologi, Seni dan Sejarah, Rajawali Pers Citra, Jakarta.
Undang – undang Dasar Negara Republik Indonesia Tahun 1945
http://pengklaimanbudaya.blogspot.com/2013/03/pengklaiman-budaya-indonesia-oleh.html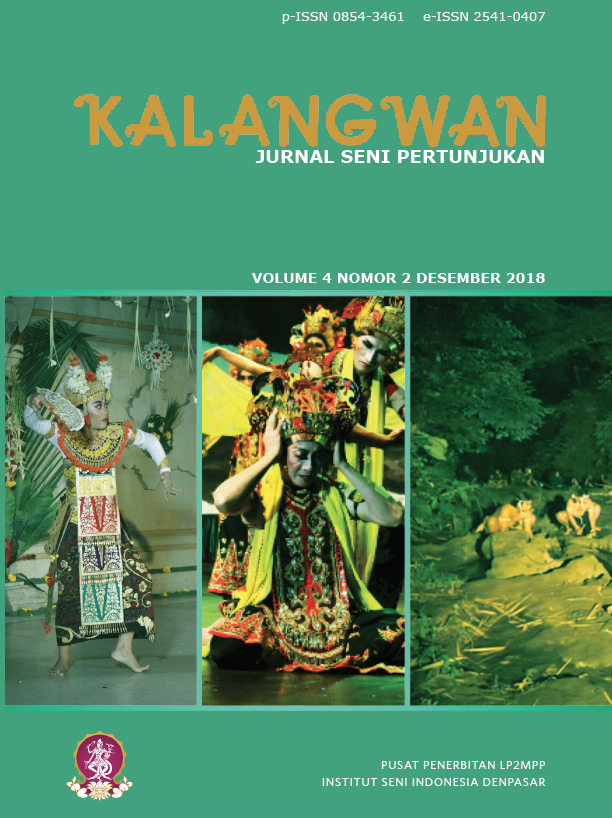 How to Cite
Masyuni Sujayanthi, N. W., & Arya Putraka, A. N. (2018). Perlindungan Hukum Terhadap Alat Musik Tradisional Bali. Kalangwan : Jurnal Seni Pertunjukan, 4(2). Retrieved from https://jurnal.isi-dps.ac.id/index.php/kalangwan/article/view/558
Copyright (c) 2018 KALANGWAN : Jurnal Seni Pertunjukan
This work is licensed under a Creative Commons Attribution-NonCommercial-ShareAlike 4.0 International License.