Hibriditas Musikal Pada Komposisi Ardawalika Karya Gustu Brahmanta
Kadek Allan Dwi Amica

Program Studi Penciptaan dan Pengkajian Seni, Program Pascasarjana, Insitut Seni Indonesia Denpasar

I Gede Arya Sugiartha

Program Studi Penciptaan dan Pengkajian Seni, Program Pascasarjana, Insitut Seni Indonesia Denpasar

Ni Wayan Ardini

Program Studi Penciptaan dan Pengkajian Seni, Program Pascasarjana, Insitut Seni Indonesia Denpasar
Keywords:
Hibriditas musikal, Ardawalika, estetika, keseimbangan, makna
Abstract
 "Hibriditas Musikal Pada Komposisi Ardawalika Karya Gustu Brahmanta", adalah sebuah usaha penelitian yang dilakukan penulis untuk melihat dengan teliti dan komprehensif dari perspektif ilmu musik dan ilmu penunjang lainnya. fenomena penciptaan komposisi berbasis dua budaya musik yang telah dipaparkan, komposisi musik Ardawalika memenuhi kriteria sebagai musik hasil campuran dua budaya musik. Upaya yang dilakukan Gustu Brahmanta dalam proses penciptaan karya musik Ardawalika memerlukan proses ekperimen baik secara konsep maupun secara musikalitas. Permasalahan yang diteliti dalam penelitian ini dibatasi, yaitu 1) Bagaimana estetika hibriditas musikal pada komposisi ardawalika karya Gustu Brahmanta, 2) Bagaimana bentuk keseimbangan antara idiom musikal tradisi Bali dengan idiom musik jazz dalam hibriditas musikal pada komposisi ardawalika karya Gustu Brahmanta, dan 3) Makna apakah yang ada dalam hibriditas musikal pada komposisi ardawalika karya Gustu Brahmanta. Penelitian ini menggunakan metode penelitian kualitatif dimana metode kualitatif merupakan metode penelitian yang digunakan untuk meneliti pada kondisi obyek alamiah, dimana peneliti adalah sebagai instrumen kunci. Data diperoleh melalui observasi langsung, dokumentasi, dan wawancara. Selanjutnya dengan melakukan kajian yang mendalam penulis akhirnya menemukan kesimpulan bahwa hibriditas musikal pada komposisi ardawalika karya Gustu Brahmanta dibangun melalui beberapa unsur-unsur di dalamnya. Unsur-unsur musikal dalam komposisi Ardawalika, mengandung unsur estetika postmodern yaitu pastiche. Selain itu juga menerapkan prinsip bricolage dimana adanya sebuah pencampuran yang bisa terlihat dari pengelompokan dan penggunaan instrumen dengan modal tangga nada yang berbeda satu sama lain. keseimbangan yang terdapat dalam idiom musikal komposisi ardawalika, dapat dicapai melalui keseimbangan yang simetris dan tidak simetris atau asimmetric balance. Dalam hal permaknaan signifikasi ditemukan suatu permaknaan denotative dan konotatif pada skor komposisi musik Ardawalika karya Gustu Brahmanta.Musical Hybridity On The Composition Of Ardawalika in Gustu Brahmanta 'swork", is The research done by the author to look carefully and comprehensively from Perspective of music and other supporting knowledge. The phenomenon in the creation of a two-based composition music culture that has been presented, the composition of music Ardawalika meet the criteria as the combination of two musical cultures. The efforts of Gustu Brahmanta in the process The creation of musical work of Ardawalika requires experimental process both conceptually and In musicality.The problems of study that have discussed in this research are 1) how aesthetic hybridity musicals on the arcade composition of Gustu Brahmanta's work, 2) How to balancing the form between the musical idiom of Balinese tradition with the idiom of jazz music in the musical hybridity Arctic composition of Gustu Brahmanta's work, and 3) What the meanings that existin hybridity musical on the arcade composition of Gustu Brahmanta's works. This research used the qualitative method where qualitative methods are the research methods used for researching on the condition of natural objects, wherere searchers are as a key instrument. Data Obtained through direct observation, documentation, andinterviews.The conclusion that the author get were the musical hybridity of Gustu Brahmanta's archematic composition Built through some of the elements in it. The musical elements in the composition Ardawalika, contains a postmodern aesthetic element that is pastiche. It also applies the principle of bricolage where in combination can be seen from the grouping and the use of instruments with different capital scales from eachother. Balancing which is contained in the musical idiom of the arcadonic composition, can be achieved through equilibrium which is symmetrical and asymmetric or asymmetric balance. In terms of signification significance found a denotative and connotative meaning on the score of Ardawalika musical composition by Gustu Brahmanta.
References
Bahari, Nooryan. Kritik Seni. Pustaka Pelajar. Yogjakarta. 2008.
Banoe, Pono. Kamus Musik. Yogyakarta: Kanisius, 2003
Barthes, Roland. The Semiotics Challenge. New York: Hill and Wang. 1998.
Basrowi & Suwandi. Memahami Penelitian Kualitatif. Jakarta: Rineka Cipta, 2008.
Brahmanta, Ida Bagus Putu. Ardawalika. (Tesis). Institut Seni Indonesia Denpasar. 2015.
Brown, Kalafya. Gamelan Gender Wayang of Bali: Form and Style. Tesis. Wesleyan University: Connecticut, 200.
Budidharma, Pra. Buku Kerja Teori Musik. Jakarta.2001.
Dharsono. Estetika. Bandung : Rekayasa Sains. 2007.
Djelantik, Anak Agung Made. Pengantar Ilmu Estetika Jilid I. Sekolah Tinggi Seni Indonesia (STSI), Denpasar, 1990.
Pengantar Ilmu Estetika Jilid I dan II. Sekolah Tinggi Seni Indonesia (STSI), Denpasar, 1999.
Djoharnurani, Sri. Seni dan Intertekstualitas. Institut Seni Indonesia Yogyakarta. Yogyakarta. 1999.
Gie, The Liang. Garis Besar Filsafat Keindahan. Yogyakarta: Penerbit Karya, 1976.
Hardjana, Suka. Musik Antara Kritik dan Apresiasi. Kompas. Jakarta. 2004.
Hastoko, Sapto. Musik Pasar Malam Karya I Wayan Balawan (Kajian Proses Kreatif, Estetika, Makna). (Tesis). Institut Seni Indonesia Denpasar, 2015.
Imron, A.M. Ali. Intertekstualitas Puisi dalam Kajian Linguistik dan Sastra, Volume 17. No. 32. 2005.
Mack, Dieter. Musik Kontemporer & Persoalan Interkultural. Yogyakarta: Jala Sutra, 2001.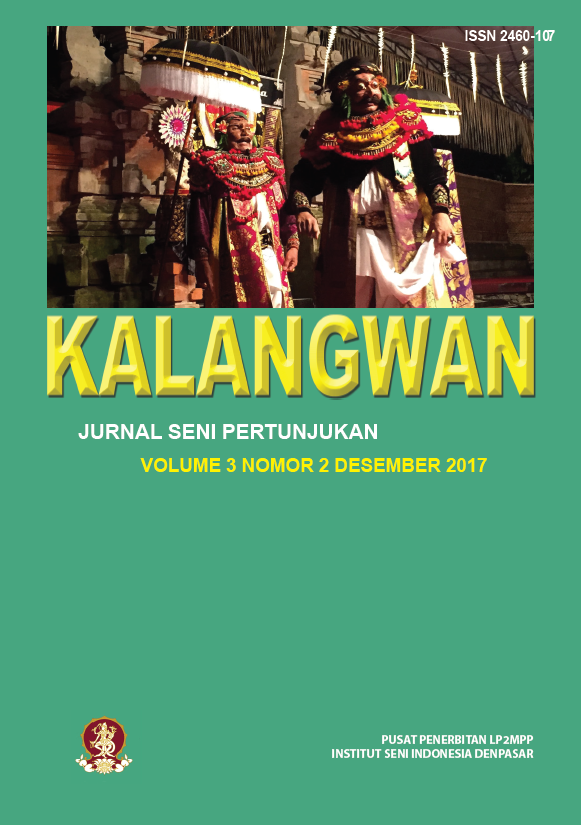 How to Cite
Allan Dwi Amica, K., Arya Sugiartha, I. G., & Ardini, N. W. (2017). Hibriditas Musikal Pada Komposisi Ardawalika Karya Gustu Brahmanta. Jurnal Seni Pertunjukan, 3(2). Retrieved from https://jurnal.isi-dps.ac.id/index.php/kalangwan/article/view/233
Copyright (c) 2017 KALANGWAN
This work is licensed under a Creative Commons Attribution-NonCommercial-ShareAlike 4.0 International License.