Perancangan Video Panduan Museum Kars Indonesia
Vania Nanette Yanchinsu

Peni Pratiwi

Michael Bezaleel Wenas
Keywords:
perancangan, video panduan, museum, media informasi
Abstract
Museum Kars Indonesia merupakan Museum Kars terbesar dan terlengkap se Asia Tenggara dalam penggambaran mengenai kondisi kawasan kars di Indonesia. Pembangunannya memadukan antara bangunan fisik dan lingkungan sekiarnya dengan konsep back to nature. Museum Kars Indonesia berfungsi sebagai tempat pendidikan, penelitian, pelestarian dan rekreatif dan memiliki potensi yang besar untuk dikembangkan sehingga masyarakat akan tertarik untuk mengunjungi Museum Kars Indonesia. Museum Kars Indonesia memiliki kendala dalam penyampaian informasi karena hanya berupa teks dan gambar, yaitu buku panduan Museum Kars Indonesia, sehingga dalam penyampaiannya cenderung kaku dan tidak maksimal. Melalui perkembangan teknologi sebenarnya banyak sekali media yang bisa digunakan untuk menyampaikan informasi mengenai Museum Kars Indonesia. Salah satu cara, yaitu dengan membuat media informasi kedalam bentuk yang kreatif, khususnya dalam dunia komunikasi visual sehingga tidak membuat bosan para penontonnya, salah satunya berupa video panduan animasi dengan penggunaan teknik motion graphic. Melalui penggunaan video animasi, penyajian informasi dapat lebih interaktif dan menarik. Penggunaan video animasi dalam pembuatan video panduan Museum Kars Indonesia, merupakan cara yang efektfif karena animasi adalah gambar dua dimensi yang seolah-olah bergerak, dikarenakan kemampuan otak untuk selalu menyimpan atau mengingat gambar sebelumnya. Hasil dari perancangan berupa video panduan Museum Kars Indonesia yang lengkap dan diharapkan dapat menjadi sarana informasi terpadu dan komunikatif bagi Museum Kars Indonesia.
References
Hooper, Eilean-Greenhill, 1994. Museum and Their Visitors. London: Routledge.

Cinemags. 2004. The Making of Animation: Homeland. Bandung: PT. Megindo Tunggal Sejahtera Indonesia.

Brigitta, Yessica. 2016. Perancangan Video Company Profile Lembah Kamuning Dairy Farm, Desa Cigugur, Kuningan dengan teknik Motion Graphic.

Utari, Rizki. 2014. Perancangan Video Infografis PT. Bumi Artha Nugraha sebagai Media Informasi.

Hovland, Carl Iver dkk. 1953. Communication and Persuasion Psychological Studies of Opinion Change. Greenwood Press: University of California.

Lasswell, Harold D. 2006. The Structure and Function of Communication in Society.

Kusrianto, Adi. 2007. Pengantar Desain Komunikasi Visual. Penerbit Andi.

Cangara, Hafied. 2000. Pengantar Ilmu Komunikasi. PT Rajagrafindo Persada.

Binanto, Iwan. 2010. Multimedia Digital Dasar Teori dan Pengembangannya. Penerbit Andi.

Betancourt, Michael. 2013. The History of Motion Graphics. Wildside Press.

International Council of Museum. 2006. ICOM Code of Ethic for Museum. Paris: International Council of Museum.

Sarwono, Jonathan. 2007. Metode Riset untuk Desain Komunikasi Visual. Penerbit Andi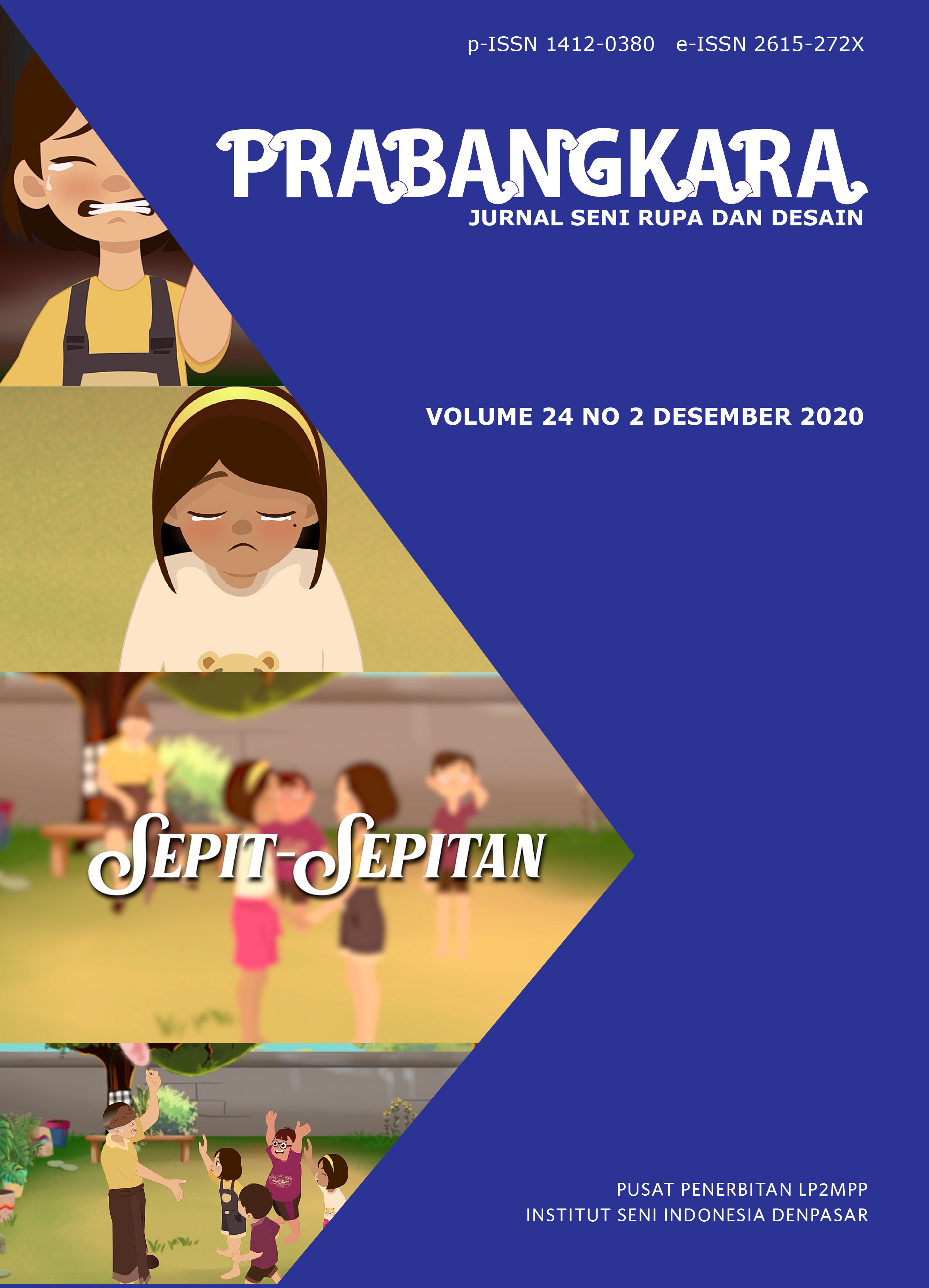 How to Cite
YanchinsuV., PratiwiP., & WenasM. (2020). Perancangan Video Panduan Museum Kars Indonesia. Prabangkara : Jurnal Seni Rupa Dan Desain, 24(2), 95-105. Retrieved from https://jurnal.isi-dps.ac.id/index.php/prabangkara/article/view/1219
Copyright (c) 2020 Prabangkara : Jurnal Seni Rupa dan Desain
This work is licensed under a Creative Commons Attribution-NonCommercial 4.0 International License.
The Authors submitting a manuscript do so on the understanding that if accepted for publication, copyright of the article shall be assigned to Atavisme and Balai Bahasa Jawa Timur. Copyright encompasses rights to reproduce and deliver the article in all form and media, including reprints, photographs, microfilms, and any other similar reproductions, as well as translations.
Atavisme and the Editors make every effort to ensure that no wrong or misleading data, opinions or statements be published in the journal. In any way, the contents of the articles and advertisements published in Atavisme are the sole and exclusive responsibility of their respective authors and advertisers.
The Copyright Transfer Form can be downloaded here: [Copyright Transfer Form]