Konstruksi Realitas Kolektor Vinyl Musik
Abstract
Purpose:  This study aims to determine the meanings, motives and experiences of the collectors in collecting Vinyl. Research methods: This study uses a qualitative method with a phenomenological approach. Data collection technique was done by interviewing. Informants in this study are three Vinyl collectors who have been collecting Vinyl for over 5 years and owning hundreds of Vinyl pieces. Results and discussion: The results in this study are (1) the meaning of collecting Vinyl is a representation of the collector's love for music, Vinyl is a part of life, collecting Vinyl creates an addiction, Vinyl is a basic need, Vinyl is a daily routine, and Vinyl is a transaction tool. (2) The collector's motive in collecting Vinyl is to appreciate musical works, want to contribute to the preservation of musical works, Vinyl a source of economy, physical factors and sound quality produced by higher quality Vinyl, Vinyl artwork that has aesthetic valued, history value, and the rarity of Vinyl. (3) Collectors' experience in collecting Vinyl, namely consistency from the past until now collecting Vinyl, continuing to add to the Vinyl collection which numbered in the hundreds to thousands, making sacrifices in terms of finance, other basic needs, and social life in order to buy Vinyl, doing special and intensive care so that the sound and physical quality of Vinyl is maintained, providing a special room for Vinyl collections, and buying and selling and bartering transactions between Vinyl collectors. Implication: The development of technology made the world community switch to listening to music from Vinyl to digital platforms. However, there are still some people who are still loyal to use Vinyl as a medium for listening to music and collecting it.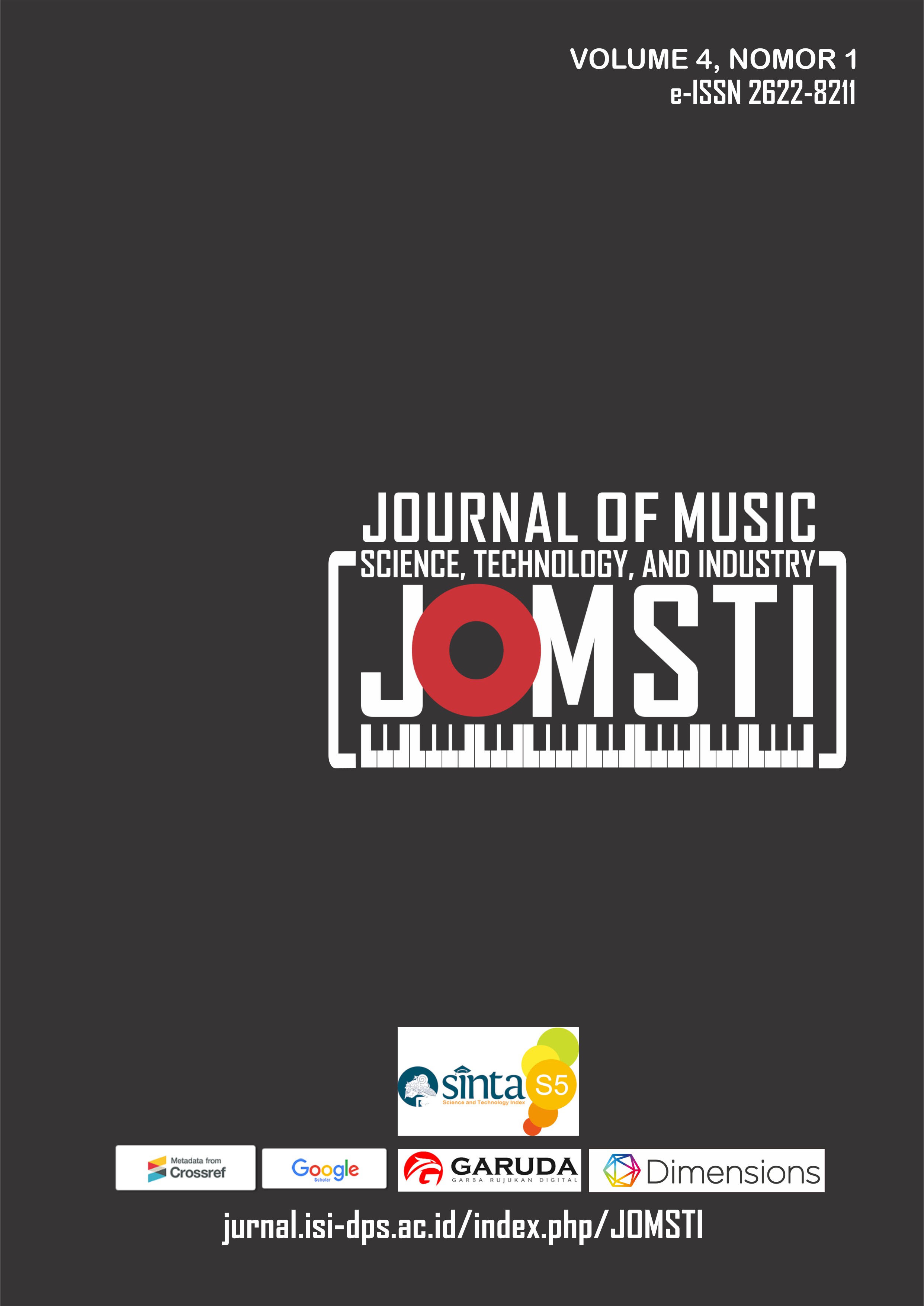 Downloads
How to Cite
Valentino, R. A., Rusmana, A., & Damayani, N. A. (2021). Konstruksi Realitas Kolektor Vinyl Musik. Journal of Music Science, Technology, and Industry, 4(1), 121–133. https://doi.org/10.31091/jomsti.v4i1.1384
License
The author submits the manuscript to do so with the understanding that if accepted by the Journal of Music Science, Technology, and Industry for publication, the publication of the copyright of the article will be assigned/transferred to the Journal of Music Science, Technology, and Industry.
However, the Authors still reserve the following:
a). All proprietary rights other than copyright such as patent rights,
b). The right to use all or part of this article in future works of our own such as in books and lectures.
After receiving the article, the author will be asked to complete the 'Copyright Transfer Agreement'. An e-mail will be sent to the relevant author confirming receipt of the manuscript along with the 'Copyright Transfer Agreement' form by the online version of this agreement.
the Journal of Music Science, Technology, and Industry, the International Editorial and Editorial Board made every effort to ensure that no false, misleading data, opinions or statements were published in the journal . In any way, the contents of articles and advertisements published in the Journal of Music Science, Technology, and Industry are the sole and exclusive responsibility of each writer and advertiser.
The Copyright Transfer Agreement Form (CTA) can be downloaded here: [Copyright Transfer Agreement (CTA) Form Journal of Music Science, Technology, and Industry]