Konsep Patung Padas Batu Belah Di Lepang Klungkung
I Made Jana

I Wayan Sujana

I Ketut Muka
Abstract
Penelitian ini bertujuan mengetahui rancangan konsep patung padas batu belah lebih dalam. Permasalahan yang dirumuskan dalam permasalahan ini adalah ingin mengetahui rancangan konsep patung padas batu belah (PPBB) lebih dalam? Ingin mengetahui medium padas apa saja yang digunakan dalam mengimplentasikan konsep pola drawing?. Kemudian latar pemahat apakah mempengaruhi bentuk dan gaya patung padas?. Penelitian ini dijabarkan dengan interpretative kualitatif sebagai penelitian seni budaya dengan pendekatan seni murni. Pengumpulan data melalui observasi, implementasi, dan studi kepustakaan. Model analisis data disajikan secara formal dan informal. Hasil penelitian menunjukkan patung-patung padas batu belah merevitalisasi patung tradisional, imajinattif inovatif, bersifat personal, lepas dari tuntutan fungsinya sebagai benda magis, atau sebagai sarana upacara agama Hindu.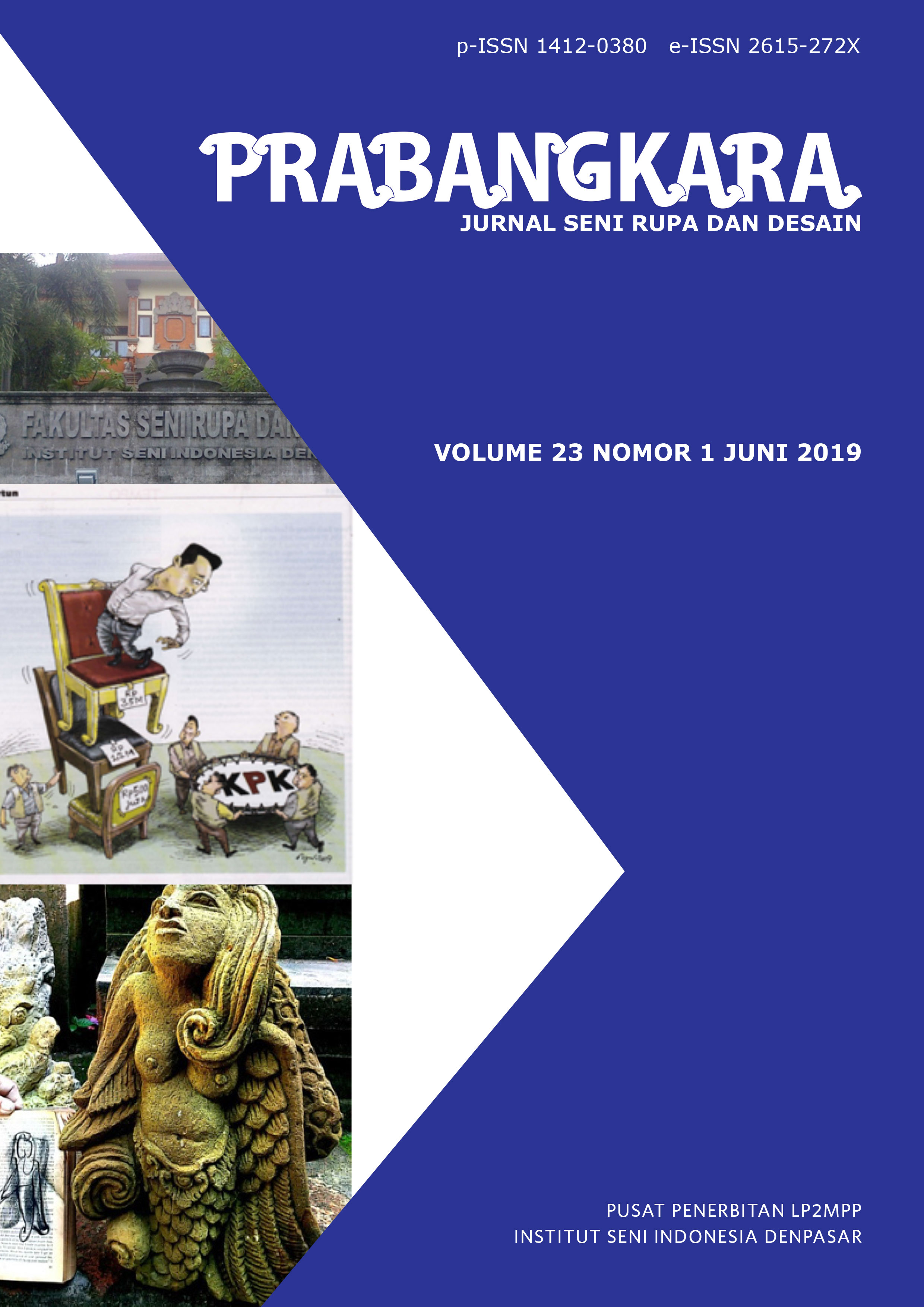 How to Cite
Jana, I. M., Sujana, I. W., & Muka, I. K. (2019). Konsep Patung Padas Batu Belah Di Lepang Klungkung. Prabangkara : Jurnal Seni Rupa Dan Desain, 23(1), 1-5. Retrieved from https://jurnal.isi-dps.ac.id/index.php/prabangkara/article/view/734
The Authors submitting a manuscript do so on the understanding that if accepted for publication, copyright of the article shall be assigned to Atavisme and Balai Bahasa Jawa Timur. Copyright encompasses rights to reproduce and deliver the article in all form and media, including reprints, photographs, microfilms, and any other similar reproductions, as well as translations.
Atavisme and the Editors make every effort to ensure that no wrong or misleading data, opinions or statements be published in the journal. In any way, the contents of the articles and advertisements published in Atavisme are the sole and exclusive responsibility of their respective authors and advertisers.
The Copyright Transfer Form can be downloaded here: [Copyright Transfer Form]